While visiting Hendricks County, you may want to take a short drive to Martinsville, Indiana. I recently spent a day exploring the town and discovered a great place for lunch,
JK's Cheesecake Café
.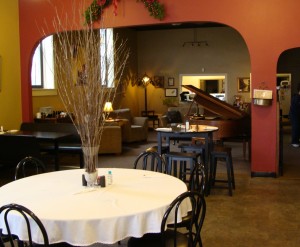 JK's (named after the owners Jill and Kim) is located on the northeast side of the Morgan County Courthouse Square at the corner of Morgan and Jefferson streets. It is one the new additions to the
Rural Routes to Main Street Cultural Trail
, a self-directed, self-guided driving tour featuring more than 30 arts and culture attractions in Hendricks and Morgan counties. The café is small, which makes it a relaxing spot for lunch. There are tables in the front and a cozy "living room" style setup in the back that includes a piano. On most Fridays, the café hosts a piano player. As you look around the restaurant you will see paintings and pottery on display and for sale from local artists.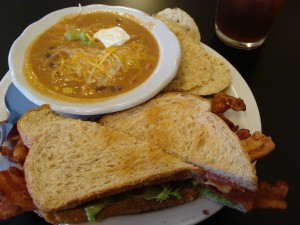 The
menu
features signature deli sandwiches, salads, sides, soup and of course cheesecake. The cheesecakes are made from scratch. You can choose from New York Style, Turtle or Lil' New York. You also have a choice of toppings for an extra $.25 each. I ordered J's BLT with the soup of the day, Taco Soup. The sandwich was served on wheat bread (you can order white bread) and topped with bacon, Muenster cheese, lettuce, tomato and mayo. I enjoyed both the sandwich and soup.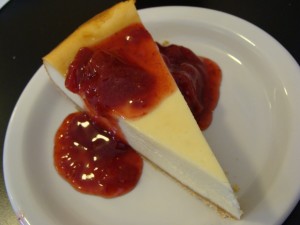 Since I was at a cafe with cheesecake in the name, I had to order a slice. By the way, cheesecake is a food that I cannot resist. I was by myself so I ordered the Lil' New York, a smaller version of the New York, with strawberries. JK's cheesecake was delicious. I recommend you save room to include the cheesecake with your lunch or take a piece home for later. They also offer a special each day, which you can find on
JK's website
. You can also follow them on
Facebook
for menu updates.
JK's Cheesecake Café 
is only open for lunch from 11 a.m.-2 p.m., Monday-Saturday.  So, if you find yourself in Martinsville at lunch time, stop by for a meal and enjoy a piece of cheesecake.
JK's Cheesecake Café 
110 E. Morgan St.
Martinsville, Indiana (765) 349-9454Hours:11 a.m.-2 p.m., Monday-Saturday Closed Sunday