As I drove through
Danville, Indiana
, the other day, I noticed town employees hanging the Christmas lights around the Courthouse, and I was reminded that one of my favorite events in
Hendricks County
is coming up soon:  Christmas on the Square.
On
Friday, Nov. 23 (the day after Thanksgiving) from 4 to 6 p.m.
, the Town of Danville invites everyone to usher in the Christmas season on the Courthouse Square. As a frequent attendee, I highly recommend it. Christmas on the Square is perfectly timed. It's right at the beginning of the holiday season before the stress and chaos of it all starts weighing on everyone. It's the day after Thanksgiving, so I can walk off some of my turkey- and football-induced stupor from the day before. It's right after the madness that is Black Friday. My wife gets up at some completely unreasonable hour in the morning every year and hits every
place to shop
in Hendricks County on Black Friday, so she particularly enjoys -- after her nap, of course -- getting back into the 
true
spirit of Christmas through this annual event in Danville.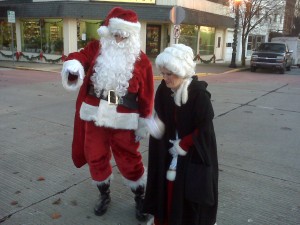 We do this by enjoying the live nativity scene put on by the
Danville United Methodist Church
. Our kids love decorating cookies at the booth orchestrated by
Northview Christian Church
. We find ourselves singing along to the Christmas music which, at this point in the season, hasn't been repeated so often as to drive a sane person insane, and we keep our eyes peeled for Santa Claus and Mrs. Claus, who always make a guest appearance, walking around, greeting kids, and posing for photos. Speaking of photos, there will be a great photo opportunity in front of a 20-foot-tall inflatable reindeer right outside the Courthouse this year. Kids will also jump at the opportunity to take a ride on the trackless train that will be running on Marion Street. Make sure though to take a few minutes to wander around the square, checking out the local businesses. The Courthouse Square has a lot of unique stores to find those hard-to-find gifts.
Need to knock the chill off? Head into the Hendricks County Courthouse where there will be all kinds of games and activities for the kids. Let them enjoy themselves and run off some energy while you restore feeling to your appendages. Christmas on the Square is a free event, and it's a couple hours of great family time and a reminder of the real spirit of the season. Everything culminates with the lighting of the Christmas tree in front of the Courthouse at 6 p.m., and then it's our family's tradition to go through the Winter Wonderland at Ellis Park afterward. (But that's a story for another day.) See you there!