Editor's Note: Unfortunately, N'awlins Creole Cafe closed in the summer of 2013.
Last summer, I had the opportunity to visit New Orleans, Louisiana, (properly pronounced "N'awlins, Looziana") for the Arena Football League's championship game, and I fell in love with the food while I was there. I love spicy food, so Creole cuisine was right up my alley. As I watched the television coverage of New Orleans for Super Bowl XLVII earlier this month, I realized how much I miss the unique spices and pizzazz of Creole cooking.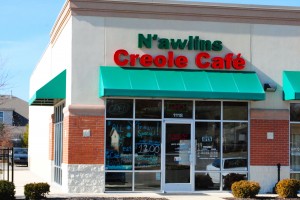 To satisfy that craving, I headed to
Avon, Indiana
to try 
N'awlins Creole Cafe
, located at 1118 N. Ind. 267. I even met one of the owners, Brian Marcelin. Brian surprised me when he said his restaurant has been open for more than four years -- right here in
Hendricks County
, at the same location, no less! How have I missed this place until now?! I perused the menu, which was full of dishes I had tried in N'awlins while I was there: po boy sandwiches, jambalaya, etoufee, Boudin balls, red beans and rice, and more. One of my favorites while I was in Louisana was jambalaya, so I wanted to compare how that dish would taste in Indiana.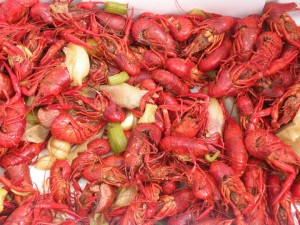 Brian asked me if I wanted my food mild, medium or spicy, and I went all out with spicy. I made a mental note that there were other options, though, since my wife doesn't like her mouth to explode with molten lava when she eats, as I do. I chose to accompany my jambalaya with potato salad and Cajun corn. The potato salad came out first, and I was pleasantly surprised to discover that it has a little pop to it. It's not just bland old potato salad. Brian puts some blend of spices in it (I knew better than to ask him what they were, since chefs don't go around handing out their cooking secrets) that gives it some personality without burning your mouth. After devouring it, I was more than ready for the main course. Out came the big portion of steaming hot jambalaya and my Cajun corn, and I couldn't wait to dig in. I fired my corn up even more with some Louisiana-brand hot sauce that Brian provided me and then dove in.
The jambalaya is made with chicken, shrimp and hot smoked sausage mixed into rice and seasoned to your chosen level of heat. It looked and smelled just like N'awlins jambalaya, and when that first bite melted in my mouth and lit up my taste buds, I felt like I was in Looziana all over again. The spiced Cajun corn was the perfect complement, too. "How do you
do
this?" I managed to ask Brian in between bites. He told me that he was born in New Orleans and his entire family lives there. His mom, Jeri, is quite the cook and taught him how to get around a kitchen, too. Brian started doing some catering out of his home, and soon his customers started asking him if he had his own restaurant they could visit. The rest is history. Brian still does catering, too, so if you're interested in some fantastic Creole food for any event you're hosting, give him a call at (317) 272-1077. N'awlins Creole Cafe is open for lunch from from 11 a.m. to 2 p.m. Wednesday through Friday, and they reopen on those days for dinner from 4:30 to 8 p.m. On Saturdays, they're open from noon to 9 p.m. and you can visit them on Sundays from noon to 6 p.m. They accept major credit cards and serve Pepsi products (if that matters to you). When the weather warms up, they have an outdoor patio for dining, too. Add some spice to your bland winter! Try N'awlins Creole Cafe and find your favorite dish!
N'awlins Creole Cafe
1118 N. Ind. 267Avon, INHours: 11 a.m. to 2 p.m. and 4:30 to 8 p.m. Wednesdays through Fridays; noon to 9 p.m. Saturdays; and noon to 6 p.m. Sundays.(317) 272-1077