I love interior design, so I'm always looking for new places to find unique home decor. 
Recently, I stumbled upon a new home decor shop right next door called African Plum Home & More. When I walked in the store, I could tell right away the store carries items that are right up my alley.
African Plum features items that fit right into the popular farmhouse style, but also some one-of-a-kind items you won't find in most big box stores in the area.
You're probably wondering the story behind the name African Plum. Well, I learned from talking with owner Suzanne Plum-Diallo that her husband was born and raised in Guinea before coming to the United States for college, and Plum is Suzanne's maiden name. The couple thought the name African Plum represented them perfectly. 
The couple formerly had a booth at Gilley's Antique & Decorator Mall, but outgrew the space and wanted to relocate to downtown Plainfield. Suzanne said they would love to see the downtown, especially the old shops, brought back to life. 
As I browsed the store, I found tons of items that fit my personal style. I loved the Indiana-themed items, farmhouse decor and vintage-looking items.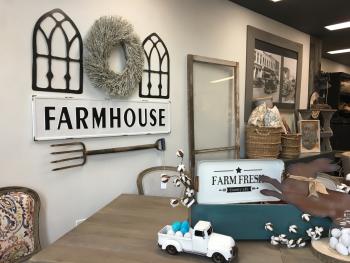 When I asked Suzanne how she would describe the store's style, she said it's hard to pin down. The store gets items from many different sources.
Suzanne paints and restores old furniture, and also gets many items from estate sales. The store gets new items every week, and the items range from mid-Century to farmhouse to traditional and more. African Plum even carries some beautiful quilts. 
Suzanne said they regularly have sales, usually on warm-weather days, so be sure to follow African Plum Home & More on Facebook to stay up to date. 
This summer Suzanne said she plans to open the store during the Plainfield Farmers Market from 4 -7 p.m. Wednesdays at the Quaker Friends Meeting near the intersection of U.S. 40 and Ind. 267. 
So whether you're at the farmer's market during the summer months or just enjoying a day trip to downtown Plainfield, be sure to check out African Plum Home & More to find some unique home decor items. You will love this store.
African Plum
Address: 120 W. Main St., Suite A, Plainfield, Indiana Phone: (317) 627-7761 Website Hours: 
Mondays and Thursdays: Closed
Tuesdays and Wednesdays: 10 AM – 3 PM
Fridays and Saturdays:10 AM – 6 PM
Sundays: noon – 5 PM