Editor's Note: This is a series of posts in which Visit Hendricks County is partnering with the Hendricks County ICON and Business Leader by re-publishing stories that first appeared in their publications. These stories will highlight some of our local faces of tourism as part of our All In, Hendricks County content to highlight the good stuff happening in our community.
(Original article published July 2019 in the Hendricks County ICON by Gus Pearcy)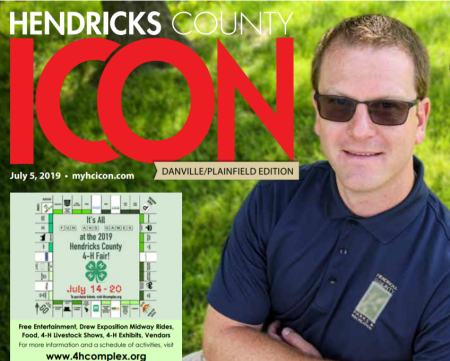 It's uncanny how compatible Ryan Lemley is to his new position as Hendricks County Parks and Recreation's new superintendent. Lemley started looking at the position last fall when a coworker told him about it.
As application research, Lemley and his wife checked out the parks. He spent time in Sodalis Nature Park in Plainfield and McCloud Nature Park in North Salem as well as hiking the Vandalia Trail between Amo and Coatesville.
During the interviews, he learned about the property to be known as the W.S. Gibbs Memorial Park that's under development to become a centerpiece park in southern Washington Township.
"What I liked about Hendricks County Parks is they serve the patrons with natural areas," Lemley said. "Another important thing for me was the W.S. Gibbs Memorial Park. It's a clean canvas that I get to be a large part, with the park board and the staff, on creating the property and turning it into a park."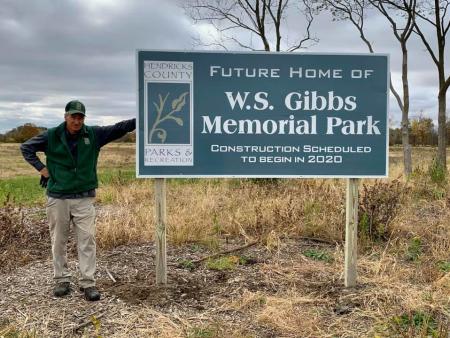 Love For the Outdoors
First, and probably most important, Lemley has a passion for the outdoors necessary to shape the future of the county parks.
"We spent a lot of our vacations at state parks and reservoirs," Lemley said of his family growing up in Greencastle. "At 9 years old, I took my first boundary waters trip through Minnesota and Canada."
He would spend summer vacations fishing with his dad, traipsing through the state parks and falling in love with the outdoors. Parks management was his calling.
His parents still reside in Greencastle and living close to them was important.
Parks Background
Graduating from Greencastle High School in 2003, Lemley picked up work with the Indiana Department of Natural Resources at Lieber State Recreation Area, near Cloverdale. He worked while earning a degree in recreation sports management at Indiana State University. He also has a minor in business administration.
Right after graduating, Lemley was hired on at Raccoon Lake as the assistant property manager. He worked his way up to the No.2 manager at the property for the Department of Natural Resources.
"I actually lived on the grounds for 11 years there," Lemley said. "We actually lived in the park itself. I met my wife at that point in time."
At Raccoon Lake, Lemley was in charge of operations of a property that typically had more than a million visitors each year. There he learned how to lead and manage resources for a large property.
"I was ready for the next step in my career," Lemley said about the latest opportunity. "Also, Hendricks County is a great place to live."
Getting to Know Ryan Lemley
Age: 35
Family: Crystal, his wife, and Hannah, 12, and Rylynn, 5.
Where he lives: Near Avon on an acre and a half with a small creek running through the property.
How he relaxes: Aside from time with the family, Lemley likes isolation in the woods and time on the water.
Favorite restaurant: Perillo's Pizzeria in North Salem.
Recreational activities: Hunting deer with a bow and fishing.
Organizations: National Archery in the Schools Program instructor.