Editor's Note: This is a series of posts in which Visit Hendricks County is partnering with the Hendricks County ICON and Business Leader by re-publishing stories that first appeared in their publications. These stories will highlight some of our local faces of tourism as part of our All In, Hendricks County content to highlight the good stuff happening in our community.
Avon Gardens will open to the public April 16 and will be open Thursdays through Sundays from noon- 4 p.m.  Morning appointments and no contact pickup can be arranged by calling Avon Gardens at (317) 272-6264.
(Original article published in April 2011 in the Hendricks County Business Leader by Mike Beas)
If the adage is true and business success undeniably hinges on location, the advantages enjoyed by Avon Gardens might also qualify as its detriment. And vise versa.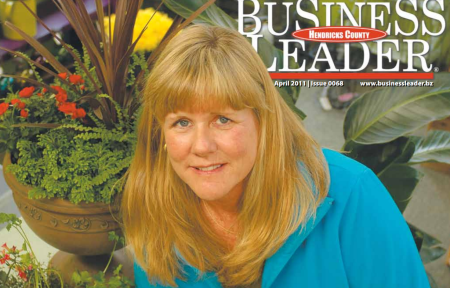 Positioned a short distance south of County Road 100 North (West 10th Street) and west of Ind. 267, these five acres of picturesque garden scenery serve as a three-pronged enterprise owned and operated since 1986 by Karen Robbins.
Hogs to Gardens
Used during a bygone era for hog farming by her late grandparents, Art and Eunice Money, the land now is devoted to plant sales, landscaping services and weddings and receptions.
"I've always loved plants, so as a kid I loved coming out here and seeing my grandmother's gardens. I was striving for a place of beauty, so when I moved out here 25 years ago from my other house I brought about as many plants with me as I did furniture," laughs Robbins.
"It took two years of cleaning up. The outhouse and chicken coop were still here, and so was the incubator house and some of the old exterior buildings."
What exists now is exclusively about the future. Not only has nature equipped the flowers and plants at Avon Gardens to beautify one's residence inside or out, the weddings and receptions offered by Robbins and her staff are a remarkably scenic method for a couple to begin their wedded life together.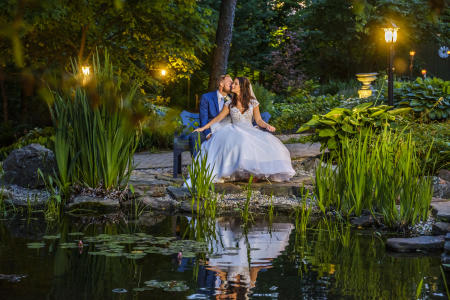 The common denominator of all three aspects of Avon Gardens is nature itself, which is perfect for Robbins, a 1977 Avon High School graduate who remembers when Rockville Road was a two-lane travel entity.
"This is a seasonal business. It's not something you want to do because you want to make a lot of money. You do it because you love creating an experience. Outdoors is a wonderful place to be," says Robbins, who claims half her revenue continues to come from the selling of plants, while landscaping and weddings/receptions evenly split the remaining 50 percent.
"With weddings, we have been so lucky here. I swear my grandparents are looking over this and looking out for these brides. It's a special and unique location. One of the best comments I had here was from a couple from Chicago who said we were a smaller version of Chicago Botanic Gardens, only better."
Weddings/Receptions
The majority of all Fridays, Saturdays and Sundays between May and October of this year are already booked for weddings, reveals Robbins, estimating she and her staff help put on approximately 75 such events per year. A bride and groom can be married beneath a large red maple tree or an Arbor; maximum wedding seating is 250 chairs.
If there is such a thing as idle time, Avon Gardens experiences it November through February, though Robbins herself remains busy planning for the upcoming spring.
"Karen is absolutely tireless and will go the extra mile to see that every bride, every client, leaves happy," says Lori Shipman, a former Avon Gardens employee who worked side-by-side with Robbins for 11 years. "It's just a passion to share the gift she has and her knowledge of plants is just extensive. She is constantly thinking of new ideas."
Robbins points out one of the hidden aspects of what Avon Gardens is about is additional business for others. Weddings and receptions means business for nearby gas stations, motels, vendors, etc.
"What I would like to see is people seeing the value we add to the community. We're the place to go for plants or education on how to take care of those pants," says Robbins.
"Truly, when people come to the garden center it's an experience. It is set up to be eye-pleasing no matter what direction you look. And we don't carry inferior plants. We are very selective in the inventory we carry, and that should produce a better result for the homeowner."
Talking while seated inside an office that in another lifetime was where her late maternal grandfather used to park his tractors, Robbins realizes the dreams she used to dream have been in full-bloom for some time now.
How Karen Robbins Did It
Best Advice You Ever Received: From Larry Greenwalt, President of Greenwalt CPAS where I worked for a number of years, "Build it and they will come".
We were discussing the display gardens and my vision to create a place where customers could see the different varieties of plants and planting combinations that would inspire them to create their own backyard escapes. He is now one of our landscape maintenance clients.
Best Business Decision You Ever Made: Advertising the display gardens as a venue for weddings and receptions rather than the occasional customer asking us to hold one in our gardens.
It gives me great satisfaction to see our gardens, not just appreciated for their splendor, but become part of someone's lifelong memories, such as in the case of a wedding.
Worst Advice You Ever Received: Again advertising. Certain forms of advertising work well for some industries but not for all.
A wise path is to speak with other business owners in your industry (go to trade shows) to find out what results they have achieved with TV, radio and print before investing marketing dollars. Also to understand that advertising is a changing business tool and it's important to stay current with the drastic changes in ways people are communicating.
In Five Years I Want…all residents in Hendricks County to know we are the best source for quality plants for their home. I want them to know and appreciate that they have a nationally recognized botanical garden in their own backyard for inspiration and to share with friends. Our gardens are a gift to the community.
My Secret to Success: There's no secret. I believe that perseverance, a passion to achieve and surrounding yourself with good people who share your vision are the fundamentals to success. It's really just like gardening. You plant wisely and nurture what you plant.