Editor's Note: This is the first of a series of posts in which Visit Hendricks County is partnering with the Hendricks County ICON and Business Leader by re-publishing stories that first appeared in their publications. These stories will highlight some of our local faces of tourism as part of our All In, Hendricks County content to highlight the good stuff happening in our community.
(Original article published in the June 2019 Hendricks County Business Leader by Lindsay Doty​)
Medium-to-dark roast.
Earthy flavor with a hint of smoke.
And a splash of sugar – Okay, maybe more than a splash.
It's the ideal blend for Stephanie Yant. The Avon native has a passion for all things coffee and has always wanted to have her own shop.
This summer with the help of her husband and business partner Jordan, she will. The couple just opened Cabin Coffee at the corner of U.S. 36 and old 36 in Avon.
Why Cabin Coffee?
 The Cabin Coffee Co. is an Iowa-based franchise known for its on-site roasting and fresh gourmet blends.
"We are a coffee roaster. So a lot of the other chains around here they might have great coffee, but they don't maybe roast it fresh in-house," explains franchisee Stephanie Yant, comparing it to the perks of freshly-baked bread.
"You can really taste it. The aroma is different. The taste is different."
The pair have been tirelessly preparing for their franchise debut. The location is a former custard shop that has been transformed into more of an upscale cabin. Inside, you'll find cozy chairs and a fireplace. Outside, there is patio seating and a dog hitching post for pet owners.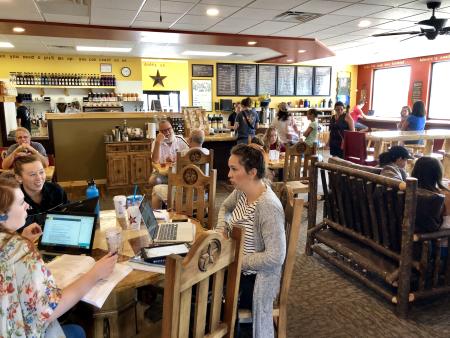 "I definitely love the atmosphere of people just coming in here and being here for hours and having life-changing conversations," says Stephanie.
 For weeks, they've been training their staff of 17 and running drive-thru "practice."
 "I'm the example customer just driving loops," explains Jordan.
"Sometimes I'm the easy customer. Sometimes as difficult as I can be," he laughs.
With the all extra coffee being donated to area businesses, Jordan is hoping to get their name out there.
Once things get running, the plan is for Stephanie to run day-to-day operations while he handles catering and "bean accounts" where local business owners can buy and roast their own.
Husband-Wife Operation
While some couples would cringe at the idea of running a business together, this duo seems to be the perfect blend for business – a mix of Type-A efficiency and people friendly.
"We've worked together a long time and we really know each other's styles and we are really a great balance," said Jordan.
"We are both leaders and outgoing but we are different too," adds Stephanie.
The couple met while working at the Chick-fil-A and started off as "just" friends.
Seven years later, the chemistry sparked. They recently celebrated their 7-year wedding anniversary while adding another big milestone.
"Ever since Stephanie was 17 she wanted to own her own business. This is our dream together and an opportunity for me as well," says Jordan Yant.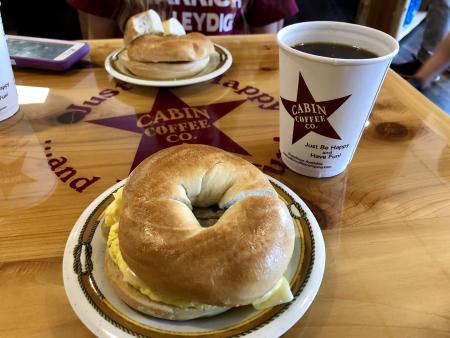 Stephanie comes to the franchise with 13 years of food-service experience. Beyond her years as general manager at Chick-fil-A, she worked at Arby's and Taco John's. She's more recently had positions with an IT company and a pharmaceutical business where she supervised the storage of medical specimens (she swears it's not as gross as it sounds).
"It was very different, but honestly everything I've done is taking care of people," she says.
Cabin Coffee Co. has 17 other locations throughout the U.S. including one in Goshen, Indiana. This will be a first for the Indianapolis region.
"We hope to draw on the Avon and Danville areas," she said.
You can find Yant on social media wearing her "Coffee in One Hand, Confidence in the Other" tee while chatting with followers about espresso shots.
She believes Cabin Coffee will be a good fit for Hendricks County.
"It's a little cheesy but our customer service and our care and community involvement, I think people will come in here and feel it and know the difference."
Getting to Know Stephanie Yant
Married: Just celebrated 7 years
Dependents: Four dogs. Three German Sheppard Mixes and one Yorkie Poodle, The Yorkie came with Stephanie but has "grown on" Jordan.
Favorite Coffee Meme: "First I drink the coffee…then I do the things."
Best advice: People first. Prioritize your employees and they will prioritize the customer.
Inspiration: My dad. He's one of the hardest working people I know, He rarely sits down.
In 10 years ​I'd like to…: Own 5 Cabin Coffees and have a team so we can one day take a vacation.