Editor's Note: This is a series of posts in which Visit Hendricks County is partnering with the Hendricks County ICON and Business Leader by re-publishing stories that first appeared in their publications. These stories will highlight some of our local faces of tourism as part of our All In, Hendricks County content to highlight the good stuff happening in our community.
So Italian is now offering carry-out, delivery, limited dine-in and outdoor dining options. You can find out more about what every local restaurant in Hendricks County is doing by clicking here.​
(Original article published January 2017 in the Hendricks County ICON by Becky Schroer)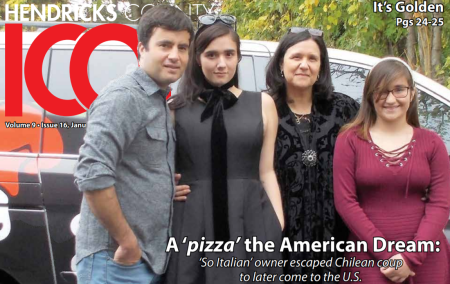 So Italian restaurant owner, Felipe Espay, has come a long way from his days as a boy when his family was forced to escape a military coup in Chile.
Espay's stepfather, who was in academia, was imprisoned during the Chilean coup in the 1970s. He was able to reconnect a few months later with Felipe, his older brother Alberto, and their mother Patty in Venezuela.
It was in Venezuela that Espay met his wife Lizbeth, and the two have been cooking together ever since. On permanent-resident VISAs, the couple moved to Indianapolis in 1998 with their then 5-year old daughter Heva. The boys' natural father, a U.S. citizen, was already living in Chicago.
But it wasn't the first time in the Espay family history that they were forced to flee a country. Espay's mother Patty, as a child, escaped Germany under Hitler's rule. That is when her family came to Chile.
The American Dream
In 2007, the Brownsburg Espays (including younger daughter Mia) became U.S. citizens. On a wing and a prayer, the couple opened their first restaurant in April 2006 and moved their family to the town soon after.
And God answered their prayers – so much so that the Espays recently celebrated their restaurant's 10th anniversary and are in the process of purchasing and opening a second So Italian restaurant on Ind. 267 near I-70 in Plainfield early this spring. The new restaurant, Nonna's by So Italian, will assume the former Three Pints Brewing Co. at 5020 Cambridge Way.
Espay was quick to point out they had a lot of help along the way. The Espay's church family and friends, such as the late Dr. David Wilcox and his wife Vicki, were instrumental in So Italian's success, especially in the beginning.
The church members volunteered their time to help serve and wash dishes at So Italian. Another friend created So Italian's logo and designed its first menu free of charge. And Fred Thomas, owner of Sonny's Pizza where Espay worked for eight years, also helped open the restaurant.
"It's very good, when you first start, to receive so much help," Espay said. So Italian has returned the favor through charity fund-raisers on Sundays when the restaurant is normally closed "for the day of our Lord."
Why Italian Food?
So how did a family from a Hispanic background come open an Italian restaurant?
"I was the only one at home who made my own pizza," Espay said, explaining he made his own dough as a child. "And Lizbeth always wanted to be a chef," he added. "She was always cooking. She is very passionate about cooking."
While Espay said the So Italian pizzas are his specialty, the salad dressings, desserts and sauces for pasta dishes and entrees are made by Lizbeth with her own recipes. "We are always creating new entrees and pizzas," Espay said, adding that his newest is chicken chipotle pizza. "It's spicy!" he added.
It was Espay's pizza dough that landed him the opportunity to cater several days a week in cafeterias at Eli Lilly and Company, and Dow AgroSciences. Both companies approached him. "They fell in love," Espay said, adding they said they had never tasted a pizza crust like that of So Italian.
When the new Plainfield restaurant opens, it will be 23-year-old daughter Heva at the helm as manager. And why Plainfield?
"I wanted to stay in Hendricks County. I love Hendricks County. It's quiet here and a great place to raise a family."