Editor's Note: This is a series of posts in which Visit Hendricks County is partnering with the Hendricks County ICON and Business Leader by re-publishing stories that first appeared in their publications. These stories will highlight some of our local faces of tourism as part of our All In, Hendricks County content to highlight the good stuff happening in our community.
(Original article published in December 2017 in the Hendricks County Business Leader by Mark Ambrogi)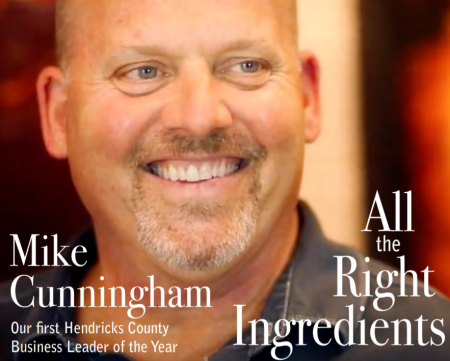 In a time when his Cunningham Restaurant Group (CRG) keeps growing, Mike Cunningham has made sure the company keeps extending its charitable reach as well.
"Our mission statement is, "In the communities we serve, we will be the restaurant of choice," Kim Woodward said, CRG director of human resources. "He is pushing for all of the restaurants to give back and be community-involved."
Cunningham's business and community contributions make him a natural fit for the Hendricks County Business Leader of the Year Award. The award is the first for the Hendricks County Business Leader, which began publication in 2006.
Cunningham opened his first full-service restaurant, Boulder Creek Dining Company, in Brownsburg 20 years ago this month.
CRG now has 24 restaurants in Indiana, Ohio and Kentucky.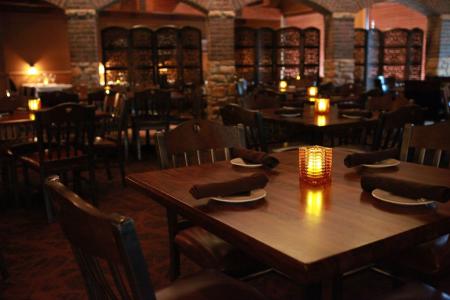 Philanthropic Contributions
When Avon teachers were looking to jumpstart a food pantry for students and employees in need, they turned to Cunningham. In memory of his mother-in-law, Cunningham decided to name it the Mary Lee Maier Community Pantry.
"It was named after his mother-in-law because of her love for kids and education," Woodward said, who is also president of the Avon School Board of Trustees.
Maier, who died in 2014, taught kindergarten in Cincinnati for more than two decades.
Cunningham, 54, and his wife, Mindy, were longtime Avon residents before moving to downtown Indianapolis a few years ago.
When Cunningham was seeking a way to give back in the area, Woodward suggested Meals on Wheels since it was near the corporate office.
"For the last two years, various teams have delivered to a route downtown," Woodward said. "He and Mindy go out on lunch hour and deliver meals to shut-ins once a month. He really has community-based spirit.
"We also have done a lot with the Second Helping program, a place that rescues food and feeds the hungry. It also has a culinary program that puts homeless men and women through a rigorous program to teach them culinary skills that will hopefully get them employable so they land on their feet. Mike has been a generous supporter of them in terms of donations."
Carl Chambers, executive chef for the CRG, said each restaurant has its own philanthropic causes.
"It's something we are expected to do," Chambers said. "Mike puts it in the annual budget and performance review."
"Mike and the CRG executive team also take part in a lot of local events and we just do everything we can," he added. "Early on, it was a benefit to us to get our names out there, but at this point I don't think Mike necessarily needs that…"
Core Values
Chambers, who has been with the group for eight years, is in charge of menu changes and menu development for all concepts.
"We've done a lot in the last five years, and we're going to continue to do a lot more," Chambers said.
"Mike is very passionate about what he does. He's in the restaurants every day. He gives immediate feedback. If something is not right, he's not one to sit back and not say anything."
Cunningham always stays true to the core values of the company, Chambers says.
"It's easy to follow someone that exemplifies that and lives it himself. We're going to continue to grow because I think everyone enjoys doing that. Everyone enjoys opening new restaurants and the challenge of what that all entails.
Emily Kirby has worked for Cunningham since 2000. She started at Boulder Creek as a server and back then Cunningham used to work as a line cook every weekend.
Kirby also was a cook and left there as the general manager. Since 2013, she has worked in the corporate office doing recipe compilation, payroll and now inventory control.
"Mike is the biggest reason that I have stayed with CRG all these years," Kirby said. "Not only does he push our industry to new places, he allows his teams the freedom to succeed or fail on their own accord.
"I think it's that thrust in his team that allows CRG to be successful. We have so many great people in our organization that are allowed to showcase their strengths on a day-to-day basis because of his vision."
Humble Beginnings
Cunningham, the youngest of nine children in Cincinnati, started out in the restaurant businesses washing dishes when he was 8 years old while working for his older brother at Skyline Chili.
Cunningham moved to the Indianapolis area to be a manager at Ground Round. He then joined Sahm's as a general manager before leaving to open two Chill & Grill restaurants.
Cunningham the Family Man
The Cunninghams have three daughters, Alli Larimore, 27, Amy, 23 and Maddie, 17. Both Alli and Amy are Avon High School graduates and Maddie is a senior at Herron High School. Alli is currently a manager at Bru Burger.