A lot has changed in the last month. Kids' schools, along with many other things, have been closed until further notice.
As we all try to adjust to our new normal here in Central Indiana, I thought I would share a few things local businesses are doing to help keep ourselves and the kids entertained including some of the virtual at-home activities we've enjoyed at our house. 
All of these and more can be found on the All In, Hendricks County At Home resource page on the Visit Hendricks County website.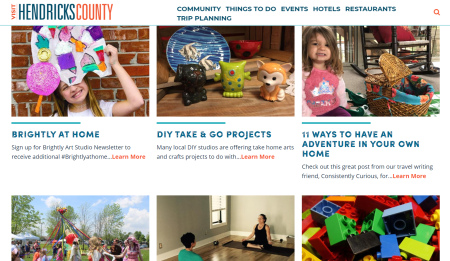 Macaroni Kid has partnered with several locations throughout Indiana, including locations in Hendricks County, to provide online activities for kids of all ages.
If you have a Lego lover, you'll want to check out Snapology, Plainfield Lego Challenges, daily at 8 a.m. These challenges range from pet shops and robots to marble mazes and amusement parks.
Once you've finished the daily challenge, submit your design for a chance to be featured on their page and receive a prize. Our 7 year old looks forward to these challenges every day, and they keep him busy for hours at a time. We've also taken this time to get creative as a family. 
Another activity we've been taking advantage of is Pete the Cat Story Time that can be found on Pete the Cat's Instagram page. We have countless Pete The Cat books, and they have always been one of our favorites. Join Pete The Cat Creator James Dean at noon every day for a positive and uplifting story.
After all, I think we're all in need of some uplifting lately!
Brightly Art Studio is known for letting your child use their imagination to create their own unique works of art. Brightly Art Studio's Owner and Lead Instructor Laura Gambreal is sharing step-by-step art tutorials on Facebook Live every Monday and Friday at 10 a.m.
We have created some awesome masquerade masks, joyful banners, rainbows and growing gardens using items from around our house. We can't wait to see what other creations Laura will come up with! 
In addition to these craft tutorials, you can tune into their Instagram IGTV on Tuesdays and listen to a read aloud with an art game inspired by the story you've read.
If you haven't had a chance to visit the Brightly Art Studio in Brownsburg, be sure to add it to your list of places to visit once we are no longer in isolation. 
Indy With Kids is sharing 30-minute Virtual PLAYdates at 10 a.m. every day. During these play dates you'll sing, dance, craft, attend a virtual field trip and even prepare something in the kitchen!
Just this week, you can learn some soccer moves with Evan Newton from Indy Eleven, and draw dragons and unicorns with artist Justine Jackson from Willing Hands Designs. The fun is new and different every day!
All fairy lovers will want to join in on the Enchanted Fairy Trail Fun!
Our resident fairy, Queen Odonata, has learned about all the issues we are having with this pesky virus in our land, so she found a way to help by coming us entertained.
Learn how to Irish Dance or join the dragonfly fairy in making crafts on the Enchanted Fairy Trail YouTube Page.
This is just a mere sampling of all the great stuff you can find on our At Home page.
There's been a lot we've had to give up in our day to day lives these past few weeks, but learning and having fun doesn't have to be one of them.
Remember, we're all in this together, and I hope these ideas help keep you and the kids busy and make these next few weeks in quarantine fly by!