Editor's Note: This is a series of posts in which Visit Hendricks County is partnering with the Hendricks County ICON and Business Leader by re-publishing stories that first appeared in their publications. These stories will highlight some of our local faces of tourism as part of our All In, Hendricks County content to highlight the good stuff happening in our community.
(Original article published August 2019 in the Hendricks County ICON by Gus Pearcy)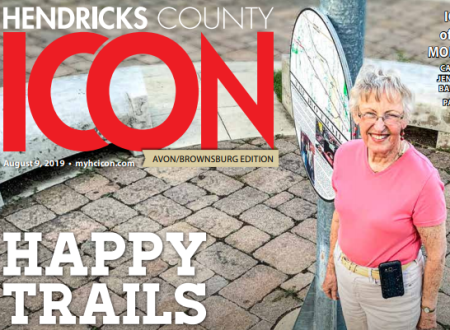 After 27 years, Diana Virgil is still working on a safe place to ride her bike. This fear was the impetus for the development of the 6.2-mile B&O Trail that now runs east and west from County Road 500 East to the Hendricks and Marion county line on Raceway Road.
Years ago, Virgil attended a meeting hosted by Ray Irvin, who later developed the Monon Trail, to learn about Hendricks County's abandoned rail corridor, then owned by CSX.
"They learned I was from Hendricks County and they said, "You know, this goes into Hendricks County?" she said. "I learned that Congress had passed a law that every state that gets their highway money must spend 10 percent on efficient transportation. And efficient transportation would be trails."
Her Mission
When she got home from that meeting, Virgil said she could envision the trail from her house. Her vision became clear, and she spent the next two decades bringing it to fruition.
Soon, Virgil and the Hendricks County Trail Development Association had $7 million to spend on developing the rail trail through Hendricks County that was originally abandoned by 1990. 
Virgil said there was great opposition to the trail in the beginning. The most difficult days were coming home to an answering machine filled with hateful calls from people who didn't want a trail to run along their backyards.
It took significant dedication from hundreds of volunteers and donors, including Virgil. There were several grant applications, hours of meetings, hundreds of fundraisers, but today the trail that saw its first 1,000 feet paved 20 years ago, is used by thousands of people every year.
Virgil and her husband, Hall, can be seen frequently working on the trail. She talks to every user and sometimes takes photos.
Future of the B&O
The Speedway Trails Association received a $4.8 million Next Level Trails program in May. The association is connecting from the cultural trail at Michigan Avenue to the eastern end of the Town of Speedway's trail. Speedway has already constructed 1.5 miles of trail and will extend the trail to the middle of the Farley addition, Virgil said.
The B&O Trail Association established a Far West Trail Association to specifically work on the trail from Farley addition to Raceway Road, the Marion and Hendricks county line.
"We own from Raceway to Tansel (Road) already," she said. "Marion County did agree if people didn't want to sell, they would use eminent domain."
According to the terms of the grant, the Speedway Trail Association has four years to complete or spend the money. The Far West Trails Association is still hoping for a $5 million Next Level Trails grant to finish from Farley addition to Raceway Road and then add onto the trail to head west from County Road 500 E. to 50 W., just east of Indiana 39. Eventually, the trail groups would like to see the trail extend all the way through North Salem, potentially as far as to the Illinois border.
Virgil had a simple, yet larger, dream.
"My dream was to ride my bike to Turkey Run (State Park) on the trail, spend the night and come back," she said. "So much for that."
Beside copious donations, Virgil said the trail always needs volunteers to help keep the trail clear and clean.
Rails to Trails History
Originally abandoned in 1990, the 6.2-mile B&O Trail through Hendricks County pays homage to and gives pedestrian and bike transportation along the former Indianapolis, Decatur and Springfield Railroad that was completed in 1880.
Eventually, the line that went from Indianapolis to Springfield, Ill., became part of the Baltimore and Ohio Railroad (B&O), which extended it to Cincinnati and beyond.
B&O merged with Chesapeake and Ohio (C&O) Railroad, which was commonly known as Chessie.
Eventually, the former Seaboard System merged with Chessie to become CSX in 1987.
Rules of the Road (And Trail)
Before using the trail, those on foot and bikes need to know how to interact with traffic at crossings.
B&O Trail users should yield to traffic at all intersections. Motorists are not required to stop except for red signals at Green Street in Brownsburg. Yellow caution signals at some crossings are intended to caution motorists to slow down for trail users.