Editor's Note: This is a series of posts in which Visit Hendricks County is partnering with the Hendricks County ICON and Business Leader by re-publishing stories that first appeared in their publications. These stories will highlight some of our local faces of tourism as part of our All In, Hendricks County content to highlight the good stuff happening in our community.
The Real Food Shoppe is offering curbside pick ups on a limited basis. If you need to order or find out what they have in stock during the stay-at-home order, call the store at (317) 203-4097 and leave your name, phone number, email address, as well as any questions your have or your order details.​
(Original article published in January 2020 in the Hendricks County ICON by Stephanie Dolan)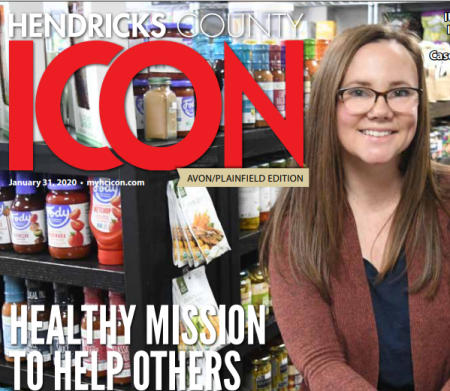 After struggling to help her daughter overcome skin irritation and allergies, four years ago Tabitha Starr opened a shop to help others facing similar situations.
"My youngest daughter had been going through some development delays and some skin irritations and allergies," she said. "That's how is all started. I knew my story was meant to be shared with others. I think, for me, I just know that this is what I'm meant to be doing, helping other people along their journey."
Starr, 37, and an Avon resident opened The Real Food Shoppe and uses her background in healthcare to stock her shelves and give customers suggestions.
"I worked in a doctor's office, and I was talking with one of my patients about my daughter's diaper rash." She said. "That patient gave me some natural diapers and wipes, and it made a big difference. It was a long road, but we became passionate about making those kinds of changes."
So, when Starr saw the original store space across from the Plainfield Friends Meeting for sale on Facebook, she knew that she had to help other families who were interested in making similar changes. A year ago she moved the store to a larger space on Main Street.
"I think I'm good at helping people navigate things holistically while not ruling out medicine as well and doing it all together and on a budget," Starr said.
The Real Food Shoppe
The Real Food Shoppe is meant to be an oasis for anyone looking to eat clean and live a natural, healthy lifestyle. The store also carries essential oils, CBD products, bulk herbs and spices, clean and natural beauty products and home-cleaning products.
"One thing that's really picked up in sales this past year has been eco-friendly supplies such as reusable bags and lunch boxes," she said.
Plainfield town councilman Dan Bridget purchases the bulk fresh herbs and spices and appreciates what the store adds to the town.
"My wife and I love it," he said. "She has a unique store. I'm health conscious. The main thing I get from her are the eggs, which are free range and locally grown. They're a wonderful product. She also sells non-homogenized, pasteurized whole milk. She's the only one in Plainfield who has that."
Main Street Plainfield
Bridget and Starr both belong to a business association group called Main Street Plainfield.
"The future of our town is very dependent on the success of our village," Bridget said. "We're making a major investment on public buildings that is supporting the growth of our downtown village center. We're developing an identity in the core businesses that have been on Main Street."
Main Street Plainfield not only restores and preserves historic sites on Main Street but also supports small businesses and works to increase community involvement downtown, Starr said.
"The Plainfield community is very passionate about Main Street and its small businesses," she said. "I can't imagine my business being anywhere else."
Healthy Living
Starr's thriving business and family health is a testament to the reason she went into business in the first place.
"My daughter is doing remarkably well," she said. "With the proper diet, proper nutrition and a good support system, we've been able to reverse a lot of her symptoms. I think that is what is part of our success. I'm a real mom who's been through it.
"I don't just want to sell you a product. I want to help you along the journey and understand you can't afford everything all at the same time." Her motto: "Do the best you can with what you have when you can."
"It doesn't mean dumping out your whole pantry and going and spending $100 on supplements," Starr said.
But that doesn't mean trends don't help her sales. Ketogenic diet items and plant-based, life-style items have driven recent sales.
Overall, Starr prides herself on owning a true family-run business that includes her husband, Aaron, shuffling his schedule and helping kids with homework so she can help store customers.
Personal Touch
Starr also prides herself on offering personal service to each customer in an e-commerce-driven society.
"We're here kind of filling those needs that aren't available online," she said. "We have face-to-face service."
Since they've increased store space, the next goal is to increase what products The Real Food Shoppe offers.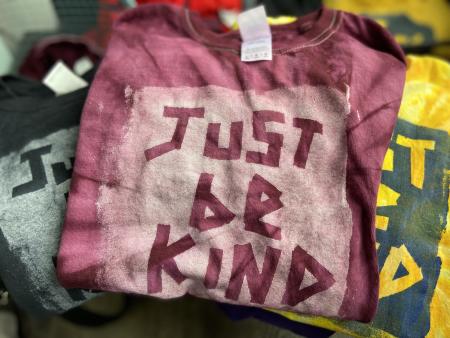 "People come in here and get human contact," she said. "I don't want to compromise that for increased sales. We're a natural health food and wellness store. We get a lot of people coming in for advice and questions. I have resources to refer them out, depending on what they need,"
The Real Food Shoppe stands out as a gem in the heart of downtown Plainfield, said Joanna Sproull who works at the Plainfield-Guilford Township Public Library and has shopped at the store for several years, including buying products for a friend who eats a gluten-free diet.
"I feel so fortunate to have access to an incredible business run by such a passionate owner," Sproull said. "Whenever I go into the shop, I am greeted with local products, like Just Be Kind signs and shirts, jewelry by local artists and stationary. I admire that Tabatha provides space for local causes and artists to sell their products."
Getting To Know Tabitha Starr
Do you have any pets? We have a miniature dachshund named Gary and two cats named Atticus Finch and Carol.
What is your favorite food? Toss up between french fries and Brussels sprouts.
What is your favorite book? To Kill a Mockingbird
What is your favorite supplement? Most people are lacking vitamin D and magnesium. They can improve a lot of symptoms that most people would never expect.
What is your favorite TV Show? The Office