Editor's Note: This is a series of posts in which Visit Hendricks County is partnering with the Hendricks County ICON and Business Leader by re-publishing stories that first appeared in their publications. These stories will highlight some of our local faces of tourism as part of our All In, Hendricks County content to highlight the good stuff happening in our community.
Lucas Oil Raceway just announced their schedule for the rest of the 2020 season, which includes three NHRA events this year including U.S. Nationals. For more information about their 2020 schedule, click here.
(Original article published August 2019 in the Hendricks County ICON by Stephanie Dolan)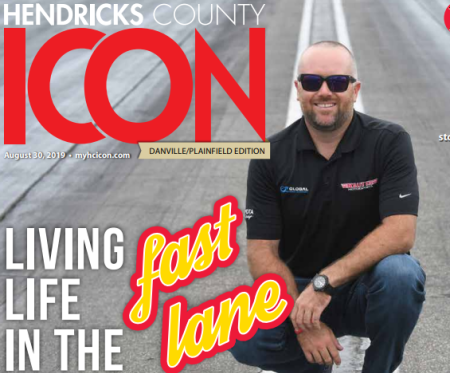 Shawn Langdon loves driving fast. At top speeds, the 36-year-old hits 330 mph.
Langdon has lived in Danville for three years and Hendricks County for more than a decade, but he's not speeding past the Court House Grounds or the Bread Basket. He prefers the straightaway at Lucas Oil Raceway as a drag racer for Kalitta Motorsports.
"This is my 11th year of racing between Top Fuel and Funny Car, and I have gotten in championship every year I've driven," Langdon said. "Kalitta is one of the biggest legends of our sport."
Langdon doesn't remember life without time on a racetrack. His father Chad grew up racing his brothers, and that's where Langdon spent a lot of time during his childhood in Southern California.
Despite that, he developed a passion for baseball, his main sport growing up until NHRA dragsters started a junior division class for kids ages 8 to 17 in 1992. Langdon still remembers sitting on the couch with his dad two short years later looking for a car to race on Autotrader.
"He found a car and asked if I was interested," Langdon said. "My primary focus was baseball, but I played football, soccer and roller hockey. So when he asked me that, I was like, "Sure. Why not?"
By 1997, he won his first national championship at 14 years old.
"That was kind of where it really piqued my interest," he said. "Before, I just kind of enjoyed going out with my dad and racing cars and meeting people. Some of my best friends today are people I met in the junior dragster league. When I won, we had some companies giving me stuff to use in racing, and I did an article in Sports Illustrated. I started doing a lot more racing."
In 2000, racing in his last season in junior dragsters, CSS Drywall owner Jack Brand helped finance Langdon's step to the next level of racing sportsman class in Southern California, including NHRA National events.
"I'd just graduated from high school and didn't have a whole lot of direction in my life at that point," Langdon said. "Jack really kind of took me under his wing and gave me a job at his company. During the week I'd work at the company as much as I could to pay for entry fees on the weekends and race in the car he'd bought."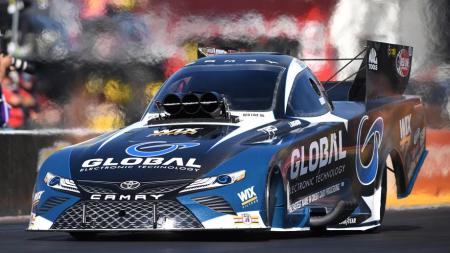 From that point, Langdon's success grew, and in 2004 Brand suggested he move into full-time racing.
"It was the opportunity of a lifetime," Langdon said. "Jack had purchased a motorhome and a trailer, and we'd accumulated a couple of race cars. My job was to work on the race cars. It was kind of a sink or swim situation. I took the opportunity and went with it."
That lasted for a couple of years, but Brand's business slowed and he could no longer afford to own a racing team. Brand gave Langdon the car with the promise Langdon would race for a living and try to make something of a racing career.
And he did. Langdon won back-to-back championships in 2007 and 2008.
He used the check he got from the 2007 championship to plant roots in Hendricks County. He got the opportunity from Lucas Oil in 2008 to race a top fuel car, and the success has continued.
Langdon's most recent win was in Charlotte.
"This was an individual event win," he said. "My last championship win was in 2013 for Alan Johnson racing, the NHRA Top Fuel Championship."
Today, Langdon races for Kalitta Racing in the Funny Car class.
I've been fortunate throughout my career to race for Lucas, Johnson, Schumacher and Kalitta," Langdon said. "I've been fortunate to race for guys I've idolized as a kid and watched on TV. It's kind of surreal to think about where my career path has gone. Kalitta's passion for the sport is second to none. He gives us every opportunity. This guy can do anything he wants and he chooses racing, and I'm the lucky one who gets to drive for him."
Getting to Know Shawn Langdon
Age: 36
Residence: Danville
Job: Racing for Kalitta Racing in the Funny Car class.
Car: No. 10
What do you like about living in Danville? I moved out there in 2008 and lived in Avon. I lived in a condo for a while, but I just really enjoyed the country. It's nice and peaceful and relaxing to come home and be able to kind of just do what I please, go out in the woods and play around a little bit or go in the back creek area. Growing up in the city you're not used to waking up in the morning and seeing deer on your lawn. So, it's kind of neat for me.
What's your favorite way to unwind and relax? I currently still own my own race team, so I have three cars that I'm racing as well. My off time is working on my race cars. I'll go golf when I get a little bit of time here or there.
What's your favorite TV show? I'm more into series or documentaries anymore than watching regular TV.
Who or what inspires you? Successful people inspire me. I'm not a guy who has one role model. I just sit back and watch successful people in all areas of life, whether that be personal, family, business. Just kind of watching successful people's success inspires me to be successful in life.
What's your favorite movie? I like comedy, so for me anything with Will Ferrell like Talladega Nights or Step Brothers. I like Jason Bourne movies, too.