Editor's Note: This is the second of a series of posts in which Visit Hendricks County is partnering with the Hendricks County ICON and Business Leader by re-publishing stories that first appeared in their publications. These stories will highlight some of our local faces of tourism as part of our All In, Hendricks County content to highlight the good stuff happening in our community.
(Original article published in February 2019 in the Hendricks County ICON by Lindsay Doty​)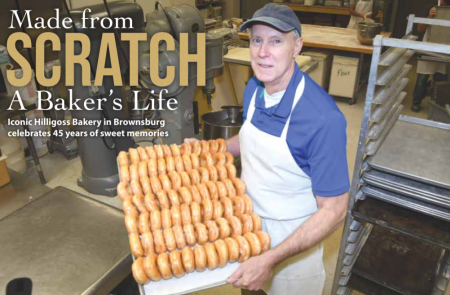 It is 1:30 a.m. on a wintry Friday in January and Mike Hilligoss is emerging out of bed to head into his bakery in Brownsburg.
"Yes, it is early. But when I come in, I'm wide awake," said Mike Hilligoss, owner of Hilligoss Bakery. "I'm used to it. By 10 a.m., your day is almost done. We do most of our business in the morning."
The 69-year-old grandfather and self-taught baker has clocked countless mornings rolling out dough on the flour-sprinkled wood table in the back. At Hilligoss, they keep traditional baker's hours, so everything is fresh and "made from scratch."
When the bakery with the blue roof opens its doors at 804 E. Main St., the intoxicating smell of warm goodies flows through the storefront as the morning regulars grab their coffee and sweet fix.
Danish, Cinnamon Rolls & Doughnuts
There's a good selection in the case if you arrive early. Danish with fruit filling, danish with chocolate, warm cinnamon rolls, frosted cookies and all your doughnut desires: Cream filled, powered, chocolate cake and of course -- the homemade Hilligoss yeast doughnut with a glaze.
"The yeast doughnuts are the most popular," Hilligoss said. "To make them, we scale everything out and then mix it. Then it has to sit for 45 minutes. That's the first proof, and then it rests. Then, we roll it out and cut them and then put them in the proof box for anywhere from 10 to 45 minutes and then we fry 'em."
Through the decades, the goodies have drawn a loyal following with many customers calling the bakery their go-to sweet spot.
"This guy and his son would come every Saturday and have a doughnut, and I remember the kid all the way from being a little child to a teenager. That was just their thing," remembers Mike's son, Phillip Hilligoss, who grew up around the shop and now helps run the business and the bakery's social media.
"I want to try and bring in some new faces," Phillip Hilligoss said. "We just have great customers."
Mike Hilligoss says he still enjoys what he does and enjoys Brownsburg, too. Even though the town is no longer a small bedroom community, the hospitality hasn't changed.
"We love Hendricks County. I guess it's the people," Mike Hilligoss said. "Everybody out here is friendly. We have a lot of regulars."
Hilligoss History

The Pike Township native started as a Dunkin Donuts business partner. In 1974, he and his wife Linda, decided to open their own bakery as a young 20-something couple. They purchased a closed-down shop on the east side of Brownsburg, behind the current Main Street location. The original plan was to save enough cash for a liquor store.
"With a liquor store, you come and open, and everything is already there," Mike Hilligoss said.
But it wasn't meant to be. So, Hilligoss stuck with the paper hat and piping bag of frosting. "We knew how to make doughnuts, and we learned to make everything else," he recalls.
Sometimes, he admits, it was trial and eating.
"The first three or four weeks we did oatmeal butterscotch cookies we hardly sold any because of how much we were eating," laughs son Phillip Hilligoss. Despite being tall and trim, he says his dad has quite the sweet tooth.
"If he's had six cookies, we need to stop," he laughs.
Family Affair
The entire family has put on an apron at some point. Hilligoss's children and grandchildren have all worked at the bakery. It's been like a second home. With the help of some loyal employees, they have beaten the odds by keeping a mom and pop in business for the long haul.
"How are we doing? We are tired," said Mike Hilligoss, with his likeable smirk.
As a business man, he's been frugal. Up until the last few years, the bakery has relied on a cash or check system to cut down on overhead, and they still prefer it. When it comes to equipment, he's still got the 1949 Hobart industrial mixer that keeps going with plenty of DIY repairs.
"Phillip and I did all the plumbing and electric," he says pointing to the back kitchen filled with a giant rolling pin and more mixers.
What Makes Hilligoss Special?
Hilligoss is humble about the bakery's success. It's not always been easy, and competition always brings a hint of uneasiness.
"Anything that opens, there's been four other donut shops besides Jack's Donuts that have opened, and it always has a little impact," Mike Hilligoss said.
For more than four decades, Hilligoss Bakery has provided white boxes packed with goodies for birthdays, anniversaries, baptisms, church events and family milestones.
"I think we did over 15,000 dinner rolls for Thanksgiving this year," said Phillip Hilligoss about the bakery's popular take on the buttery Parkerhouse roll.
Loyal Following
For the 45th anniversary, employees and customers from the past and present have shared some of their own memories from the Hilligoss highlight reel. One couple posted their 1986 wedding photo that included a retro white-frosted wedding cake made by Hilligoss, something they no longer do.
Others left comments and reminisced about the sweets and the memories that accompanied them.
"My youngest son turns 45 today and for his 3rd Birthday, he had a Cookie Monster cake from Hilligoss. Very blue faces and mouths" Sherry Spinks shared.
"Been eating these donuts since I was a kid. Took my son there as a little one and he always called it the donut factory." Brownsburg resident Michelle Stevens wrote.
"There is no way we could do it without the people of Brownsburg," Phillip Hilligoss said. "There is no way we could have lasted the 45 years."
The Hilligoss family feels lucky that for 45 years they have been able to bring homemade goodness into people's lives. Even if it means getting up really early.
What Mike Likes
Sweet cravings: Hilligoss Bakery frosted sugar cookies or chocolate chip. His son cuts him off at six.
Grandkids: Two good ones and hoping for more.
Coffee: Black and decaf. Many cups.
Fatherly thoughts: The most wonderful years are the years with your children.
Dog or cat person? Dog. Currently getting used to a new high-energy Labradoodle his wife adores.
When did you feel like you "made it" in business? Still waiting.
Last time you purchased something for yourself? My truck. My retirement truck. By the time it is paid off, I will be retired.