Editor's Note: This is a series of posts in which Visit Hendricks County is partnering with the Hendricks County ICON and Business Leader by re-publishing stories that first appeared in their publications. These stories will highlight some of our local faces of tourism as part of our All In, Hendricks County content to highlight the good stuff happening in our community.
Court House Grounds is now offering both carry-out and dine-in options. You can find out more about what every local restaurant in Hendricks County is doing by clicking here.​
(Original article published December 2018 in the Hendricks County ICON by Lindsay Doty)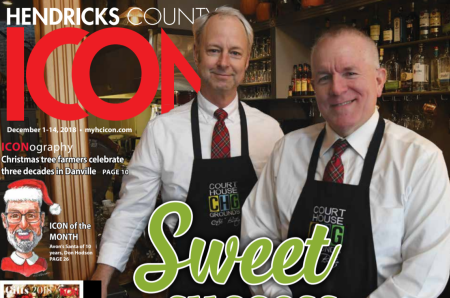 It's blonde, citrus-scented with a glaze and beautifully-packaged in a round plaid-lined tin. The holiday menu staple at Court House Grounds in Danville's square is (gasp) fruitcake. It's Grandma Pete's fruitcake and it has become a hit…with some convincing.
"Fruitcake has a bad reputation. So, at first, we called them holiday cakes. They sold well that first year. The following year, we marketed them as Christmas Cakes. By year three, I decided, 'It's fruitcake! Bring on the jokes!' People love them and we sell out every year!" explains owner Tracy Jones, whose 102-year-old grandmother is the mastermind behind the heavily-guarded recipe.
Jones and co-owner Bill Franklin added it to their menu nearly two decades ago knowing it was a risky move. Both were aware of the holiday re-gift jokes surrounding the often dry "cake" that involved pseudo-fruit and suspect nuts (insert Johnny Carson jab: There is only one fruitcake in the entire world and people keep passing it around).
"It's a funny joke because there are nasty fruitcakes out there," laughs Jones.
Holiday Tradition
He knew his grandmother's moister, tastier alternative deserved a chance.
Grandma Pete (who retired two years ago at age 100) made the cakes in the back kitchen for the first 18 years of business and still checks in to see how her fruitcake is selling. She finally agreed to teach her grandson the recipe in a private meeting at home that included two KitchenAids and a hidden recipe card.
"It felt like a covert operation. You know, lights were dim. I got into the kitchen and she had butter and eggs out and showed me what we were doing," remembers Jones.
Today, Grandma Pete's Fruitcakes ship anywhere for $5 and have a loyal following. "There was a woman who bought four of them. One for family and three as gifts. The next day she came back and bought three more because her family ate them all in one night," shares Bill Franklin.
Not everyone is willing to try the controversial Christmas treat. "It's a full-time job to convert people to even taste fruitcake. So I'm not so anxious to sell as I am to convert them," explains Jones.
This Christmas Eve, the owners are celebrating more than the fruitcake. The holiday will make 20 years in business.
Labor of Love
We are very excited and proud actually. It's a huge accomplishment, especially in the restaurant industry," said 56-year-old Franklin, who is known for his specialty soups and soups-mercial posts on social media.
Back in 1998, the former military man who was working in banking decided to collaborate with his friend from Danville to pursue dreams of owning a coffee shop and bakery. Together, the 30-some-things bought the historic building on the square and got to renovating.
"We didn't plan on opening Christmas Eve we just kept renovating and delaying. Now looking back, it's kind of neat that's our anniversary," said Jones.
Both agree it's been a long road of ups and downs and lots of learning.
"We like doing what we do. It's a labor of love and we learned everything the hard way. One day my tombstone will say 'Tracy Jones: He did it the hard way."
Franklin says the restaurant is a commitment that goes beyond the 9 to 5 job.
"When you own a business and you lock the doors, there is still stuff that needs to be done, shopping, planning and cleaning. For us, it's just our tenacity. We know what it takes, so we just get it done," said Franklin.
At the end of a long day, the owners (and besties) are doing something they love. This Christmas Eve, they will follow tradition and open in the morning to mark the restaurant's anniversary with pressed shirts and baked goods in hand.
It's an important day for us," said Jones.
Much like Grandma Pete's fruitcake, owning a business has taken lots of adjustments, care and a little convincing.
But they are doing it one loaf at a time.
"You do your craft because you love what you do and if anybody else loves it, well that's just gravy," said Jones.
Sweet Memories
Court House Grounds owner Tracy Jones remembers getting his Grandma Pete's fruitcake every Christmas Eve as a child during family get-togethers in a cupcake size. When he got older, grandma would always ship a loaf size in the mail, even to college.
After years of cooking at Court House Grounds, Thelma or "Grandma Pete" agreed to show her grandson Tracy Jones how to make her perfect fruitcake in a top-secret meeting.
A professional photographer by trade, she started adjusting the fruitcake recipe to make it her own and found the sweet spot in 1953.
Grandma Pete who retired two years ago at age 100 still checks in on her recipe. She started tweaking it in the 50's until she got it right