The instant I walked into the
Artistic Designs Gallery
in Brownsburg, I was greeted with a visual, aesthetically pleasing treat of amazing artwork.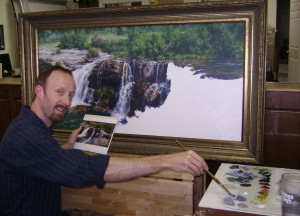 This holiday season, folks who visit this gem will get a sweet bonus treat. The gallery, 152 E. Northfield Drive, Brownsburg, is part of the
HollyDays
Cookie Trail - one of 13 businesses that feature a delicious cookie recipe for you to make, bake and share. Simply stop by any of the businesses to collect the cookie code and then enter it on our
website
to download or print the recipe. Or, scan the QR code with a smart phone. I was hooked by Artistic Designs Gallery immediately, as an impressive array of varied works caught my eye. All the fine artwork is original, made mostly by local - and some international - artists. The walls feature local, yet prolific artists who produce a range of works with an emphasis on realism. Many paintings, drawings and sculptures are inspired by wildlife and nature. I was especially taken by Lynne Medsker's paintings and Lisa F. Pelo's blown-glass ornaments and vases.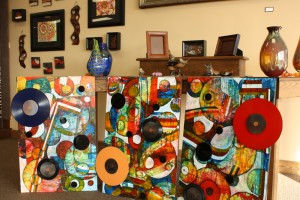 As I turned to the center display, I came across a strange sight: a magnifying glass hanging from a wooden peg. What a cute accent to the current "Fifth Annual Miniature Fine Arts Show," which was on display through this past weekend. Amazingly detailed miniatures, most the size of the palm of my hand or smaller, were meticulously crafted by 28 international artists. Artistic Designs Gallery's next centerpiece show, "In the Beginning: Art and Lettering Through History," debuts Dec. 10 and features scribal art by Brownsburg's Margaret Soucy-Lowry, who secured a second-place ribbon for art at this year's Indiana State Fair. I marveled at all the artwork for nearly an hour when I realized that it takes up only a third of the floor space. That's because Artistic Designs Gallery offers so much more, including:
A custom frame shop with an impressive array of choices.
An area for demonstrations, workshops and classes for adults and children. Upcoming events include the Sketch Pad Art Studio (4:30 to 5:30 p.m. Mondays for ages 6-8) and Friday Evening with the Artist (monthly opportunity to create your own original along with the artist).
Indeed, this is a place to appreciate, buy, learn and create art. Last March's fire is a distant memory for friendly owners Lee and Laura Tesdahl, who re-painted, re-carpeted and re-tiled the space as well as restored the art. They've turned Artistic Designs Gallery into a real treat -- visual and otherwise.