Take one step into Confection Delights in Danville, and it's like walking into a candy-themed art gallery.
While she would never compare herself to an actual artist, many of the delicious sweet treats you can find inside Pamela Powell-Warden's new Confection Delights store, in my opinion, truly are works of art.
From her size 6, 14-ounce chocolate high-heeled shoes to her pretzel angels, brownie snowmen and chocolate monogram-esque alphabet letters, Powell-Warden's little shop just north of the Hendricks County Courthouse Square is a must-see and must-taste attraction for chocolate and candy lovers. The shop, in the old Bread Basket location at 41 W. Clinton St., is one of the 13 stops on the Hendricks County Convention and Visitors Bureau's Cookie Trail. Each location along the trail features a unique QR or web code that allows visitors to download a delicious cookie recipe from a local celebrity. While you won't find many cookies in Confection Delights, there is plenty to see and try, and not everything is shaped like a shoe or an ornament. Powell-Warden also makes and sells traditional candies sold by the pound or even individually, such as turtles, cherry cordials and even chocolate-covered red velvet cake candies. Since she opened the store Nov. 10, Powell-Warden has found it difficult to keep up with the demand. Right now, Confection Delights is pretty much a one-woman operation. Her showroom is small  ??  about the size of a two-car garage when you include her kitchen and work area. But what it lacks in size, it more than makes up for in creative, delicious delicacies. In talking with Powell-Warden, who lives in Pittsboro with her husband and two children, I surprisingly learned opening Confection Delights didn't necessarily fulfill a long-time dream. In fact, what eventually became Confection Delights all started with three candy recipes. Just for fun, while holding down a full-time job, Powell-Warden began supplying treats for friends' bridal showers and parties.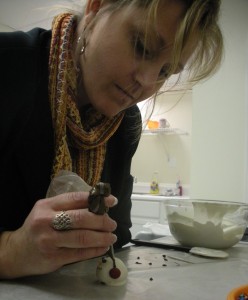 As word of her talent spread, she began to realize she might be on to something. She and her husband decided if she could make 50 percent of her full-time wages, she would quit her job and go into chocolate full time. In July, she took that leap of faith, and I'll just say on behalf of her customers, it was a wise move. I spent about an hour in her shop the other day watching her create a festive snowman head. She made it look easy as she formed the brownie ball, dipped it in white chocolate, and before it dried, perfectly placed two eyes, an orange nose and two red M&M's on each side of the head. She then used a marker with edible ink to form the mouth and completed the simple, yet artistic dessert with a brown line of frosting to connect the M&M's and form earmuffs.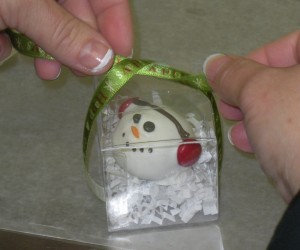 To borrow a phrase I heard in our Hendricks County Convention and Visitors Bureau office:  It was too pretty to eat, but too good not to. If you haven't already, you really need to visit Confection Delights. The store's hours are 10 a.m. to 6 p.m. Tuesday-Friday and 10 a.m. to 4 p.m. Saturday. Her candies range in price from $1 to as much as $25. While you're there, make sure to complement Pamela on being a candy artist. Just don't tell her I told you to say it!