No matter the season, Frazee Gardens is my oasis -- the place in Hendricks County where I can escape the hubbub of life and get lost in a wondrous world of color and charm.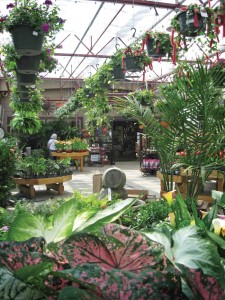 During a recent gray, cold day, I stopped into their Brownsburg location. Outside and inside, the shop cheered me up with cute accents and a remarkable inventory. Frazee Gardens isn't just a garden shop. Not even close. It's a year-round boutique filled high and low with unique home decor, accessories, art, handcrafted jewelry and more. Local artists showcase their items there on consignment. The inviting nature of Frazee Gardens was evident outside the store, where two amusing, life-size reindeer figurines carrying elves greeted me amid other outdoor adornments. Inside, the dullness of the overcast day seemed a million miles away as my eyes scanned all the one-of-a-kind items. My gift-giving slump was over; I had hit the jackpot. Before perusing the store, I noticed a sign for the Hendricks County Convention and Visitors Bureau's Cookie Trail. Frazee Gardens is one of the 13 stops that feature a web or QR code that enables visitors to download a delicious cookie recipe from a local celebrity.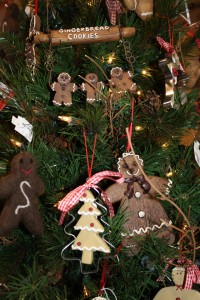 Next, it was on to shopping. As ceiling fans whirred, I came across a holiday section of the store with some of the most striking ornaments, trees and other decor that I had ever seen. Onward to the rest of the store, which featured photography, carvings, outdoor canvas art and more. I discovered bakeware that had my wife's name written all over it. Gardening gifts and supplies reminded me of my sister-in-law. A large handbag with the inscribed words "Live, Love, Laugh" made me think of my mother-in-law. Boy, the holiday list that I had made and checked twice was getting checkmarked at each turn inside their beautiful showroom.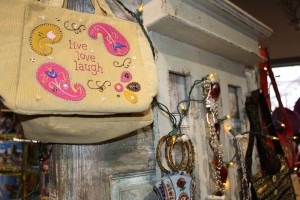 All this shopping made me thirsty, so I stopped for mocha at the cozy, in-house Lisa's Cafe, where a chalkboard held by a chef-pig image proclaims, "This little piggy went to Lisa's Cafe." The rest of the store is full of special touches, and that's not even considering the large, heated greenhouse. Most other garden centers are dead in the winter, but Frazee Gardens features an array of poinsettias and other plant life. Of course, that's just a warm-up for spring, summer and fall, when pergolas come alive with a vibrant selection of hanging baskets overflowing with flowers. Amenities during those seasons include trees, shrubs, annuals, perennials, vegetable plants and a produce stand. At that time of year, water flows through fountains as butterflies flutter about. But this was December, and it was cold and gray everywhere. Except at Frazee Gardens.
Note:
Check out the Frazee Gardens calendar for several workshops including Frazee Bucks Grand Redemption Weekend, Jan. 6-8, when you can receive 50 percent off your shopping total; and the popular Girls' Night Out on Feb. 16, expected to sell out soon.