Here in this quaint little town of
North Salem
lies an undiscovered beauty.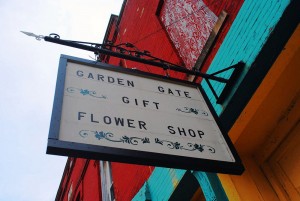 As I walk in the front door of the
Garden Gate Gift & Flower Shop
, a strong warm gust of air rushes over me.  You don't find many stores that are this cozy during the winter. The Garden Gate is filled with an array of books, furniture, flower arrangements, jewelry, antiques, collectibles, miniatures, candles, Christmas decorations, teddy bears, clocks, paintings, vases, hats, makeup, clothing and so much more that mixes the new with the old.  It reminds me of that Forrest Gump quote about a box of chocolates, you just never know what you're going to get. There really is no better time to check it out because while you are there you can also collect a cookie recipe. Garden Gate Gift & Flower Shop is one of 13 stops along the Hendricks County Convention and Visitors Bureau's
Cookie Trail
. Each Cookie Trail location features a unique QR or web code that allows visitors to download a delicious cookie recipe from a local celebrity.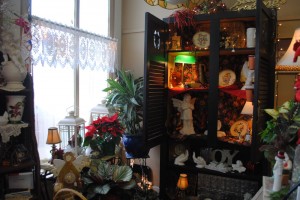 Talking with one of the owners, I learned that Garden Gate used to be an antique store.  One year ago, however, it became the Garden Gate Gift & Flower Shop which started with two pieces of furniture and some candles.  They've come a long way from their initial opening. Now, there is new inventory, both antiques and flowers, on a weekly basis.  The owners even have their own areas of expertise — Bonnie specializes in antiques, Terri in floral design and Vicki in jewelry. The beauty of the Garden Gate lies in the diversity of the products.  They offer name-brand clothing, such as Chico's, and all of the apparel is gently used.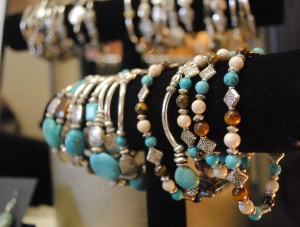 There is a wide range of antiques — things from generations ago, like the Hummel figurines and old-fashioned furniture and new things too such as lotions, purses, makeup, and homemade jewelry. There are even stuffed bears and other animals that kids might enjoy.  The highly decorated rooms are filled with all kinds of décor, furniture, apparel, and household furnishings that would look great in anyone's home. At this point, you might be thinking that a place like this would be expensive, but I was pleasantly surprised to find that their prices are completely reasonable.  I will definitely be back sometime soon.  The staff is eager to assist you, everything in the store is displayed so nicely and the sweet aroma of candles reminds me of my grandma's house.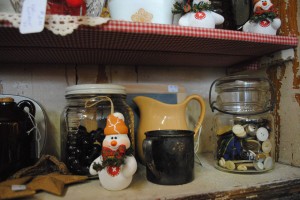 Garden Gate Gift & Flower Shop personifies small business in a small
Hendricks County
town. Please support them by stopping in sometime. I have no doubt you will have a great experience like I did!