What came first, the invention of the bicycle or the construction of the Plainfield building that houses one of the coolest cycle shops around, Gear Up Cyclery? If you guessed the latter, you would be correct. My guess was dead wrong.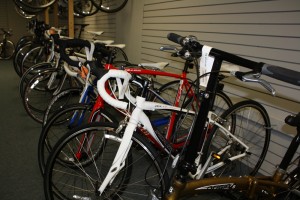 Much to my surprise, the building, at 124 W. Main St. in the newly renovated but historic
Plainfield
Town Center, was built in the pre-Civil War days. The original pedal bicycle, and the actual term "bicycle," arrived in the 1860s.
Gear Up Cyclery
pays homage to all this history by cutting a design into one of the interior walls, recessing to exposed brick from a bygone era. The spacious shop is full of character but isn't stuck in the past. Modern equipment and accessories fill every nook and cranny of this two-story Hendricks County store that Dennis and Janet Gibbs opened in January. Gear Up Cyclery is one of 13 county businesses along the
Hendricks County Convention and Visitors Bureau's
HollyDays
Cookie Trail
. Each stop features a delicious cookie recipe for you to make, bake and share. I collected the cookie code at Gear Up Cyclery and entered it on our website to download or print the recipe. If I had my smart phone, I could have scanned the QR code. Though the Cookie Trail enticed me into this quaint, little bicycle shop, it didn't take me long to realize cycling isn't just a warm weather activity; it's year-round.
Holiday stocking stuffers tempted me at every turn: socks, leggings, skullcaps, gloves, eyewear, energy bars and drinks and computers that measure distance and speed. You name it, Gear Up Cyclery has it. I kid you not. Here are some of the other offerings:
Comfort, casual, road and mountain bikes on both floors.
Tires, helmets, shoes, jerseys and accessories like mirrors, lights, locks and bags.
Turbo trainers for those who want to ride the bike while it's stationary, complete with a personalized bike-fitting service.
A full-service department with in-house mechanics.
To use a baseball analogy, this store hit for the cycle. The shop offers merchandise from top-rated brands Endura Sports, Specialized, Electra Bike, Globe Bikes and Chariot Carriers. The location, which features free parking in the back, is right off the 20-mile
Plainfield Trail System
. In case you haven't noticed, cycling has become immensely popular. Hendricks County is home to around 280 miles of paved paths. I was among novice and serious cyclists - from children to adult - perusing this neatly laid-out store. Quite frankly, I didn't want to leave, but I will return soon. On Dec. 9 and 10, Gear Up Cyclery offers 15 percent off all merchandise, including bikes. I hope to see you there.