Editor's Note: Unfortunately, Grandpa Jones' Popcorn and Candy Shoppe has closed since this article was published.
I've never seen a store like Grandpa Jones' Popcorn and Candy Shoppe, which marries the past with the present, the packaged with the fresh, and the sweet with the sour.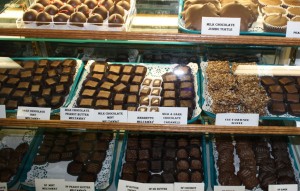 It is the ultimate eye candy right here in Hendricks County. The
Avon
store bursts with old and new favorites that tantalized me at every turn in the brightly colored space at Kroger Plaza, 102 N. Ind. 267. I traveled to Grandpa Jones' Popcorn and Candy Shoppe because of the
Hendricks County Convention and Visitors Bureau
's
HollyDays
Cookie Trail. The shop is one of 13 county businesses during the 2011 holiday season that feature a delicious cookie recipe for you to make, bake and share. I collected the cookie code and entered it on the
Cookie Trail website
to download or print the recipe. If I had my smart phone, I could have scanned the QR code. My senses were filled upon entering the store. The soothing sound of hopping-and-popping seeds morphing into popcorn, the pleasant aroma of caramelized syrup, and the colorful sight of thousands of pieces of candy in every imaginable hue made for an amazing experience.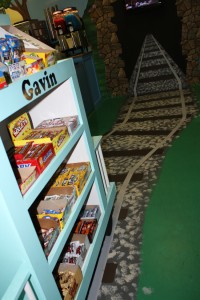 Grandpa Jones' is dedicated to making memories, and that mission starts with the old-fashioned, homemade train in the center of the store. The large wooden, painted structure features a locomotive and several train cars. A painted floor of railroad tracks stretches from the door to the train. The train is loaded with candy, and there's a method to this madness. One side features dozens of traditional candy selections (think Sky Bar); the other features newfangled choices (think Toxic Waste). Coatesville residents Ken and Carolyn Jones could have stopped there, but the store is filled with personal touches. It all starts with the popcorn, lovingly made on-site. It has become custom for children passing by to peer through the window just to see it being created. You can watch the process from the inside, too. Huge tumblers hold fresh popcorn to await the pouring of either warm caramel made from a nearby caramel machine or freshly melted cheese. After the tumbling process, the popcorn is dumped into a cooling pan to break apart and then placed into a warmer. That's where I entered the picture, ordering a heaping bag of caramel corn. The warmth and consistency set it apart from any other I had ever tasted.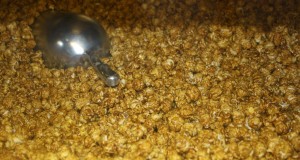 Friendly employees allow other samples, including yellow cheddar, white cheddar, Chicago style (caramel/cheddar), plain and creamy dill. The latter is one of four revolving flavors (others are hot jalapeno, bacon cheddar, and sour cream and chive). Carolyn Jones' homemade fudge – in five varieties – had me at hello. Grandpa Jones' even has its own soda label. But it was the chocolate and candy choices that sealed the deal for me. They were heavily Hoosier flavored. The South Bend Chocolate Company, Albanese Confectionary Group of Merrillville (try the triple-dipped malt balls) and Abbott's Candy of Hagerstown are well represented with dozens of selections. Even the national products are secured through mostly Indiana contractors. The candy – including sugar free – never ends: Thousands of M&Ms, Jelly Belly candies and Sixlets; dozens of bins of wrapped and bulk candy; 27-inch Gummi Bears rattle snakes; Pucker Powder candy art; and popcorn tins with sizes up to 3.5 gallons. The holidays are a perfect time to visit. Carolyn puts together 70 types of gift baskets, and gift cards are available. Grandpa Jones' Popcorn and Candy Shoppe also services weddings with a "sweet bar" and customizes orders for school colors. I left Grandpa Jones' with one overriding sentiment: How sweet it is.