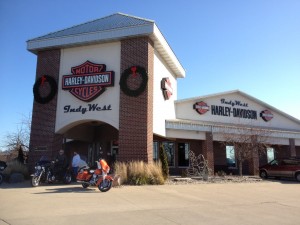 I spent the day with my dad recently and started off at the
IndyWest Harley-Davidson
in
Plainfield, Indiana
. I am not a motorcycle owner (or really even a rider for that matter) but my dad is a Harley owner and spends a good deal of his summer on his bike. So as my dad enjoyed looking through the store, I decided to find the
Cookie Trail
information so that I could download my cookie recipe. 
IndyWest Harley-Davidson
is one of the 13 stops on the
Hendricks County Convention and Visitors Bureau
's Cookie Trail. Each location along the trail features a unique QR or web code that allows visitors to download a cookie recipe from a local celebrity. The recipe at IndyWest Harley-Davidson was submitted by Funny Car Driver Mike Neff and was a particularly delicious one. I also enjoyed the cute dog that they have wandering around the store. If you have had a chance to see their commercial he is highlighted in it.
I have noticed while being around my dad that Harley owners seem to be fanatics about the brand and usually stop at every Harley-Davidson store that they come across. I was reassured that this was true by a couple in the Plainfield store. A wife was demanding that her husband get off one of the floor models because every time he sat on a new bike he would buy it, and he had purchased his current bike less than a year ago. Not only do they have a huge variety of bikes and motorcycle parts but the store is also full of clothing, accessories, and more. Another cool opportunity that
IndyWest Harley-Davidson
has that no other Harley dealer in Indiana can offer is
motorcycle rentals
. The rentals even come with Indiana Ride Routes and Maps, so you can spend a day to a month cruising the roads.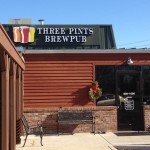 After leaving the store, we decided to stop by a local restaurant and grab lunch. IndyWest Harley-Davidson is in a great location right off I-70 surrounded by several locally owned restaurants. We chose
Three Pints Brewpub
so that we could enjoy both a good lunch and try samples of their local brews. What a great day we had together! I would highly recommend a trip to IndyWest Harley-Davidson, even if you aren't a motorcycle enthusiast, and while you're in Plainfield head over to Three Pints Brewpub. You won't be disappointed.