One of the best things about Hendricks County is that, despite being located in Central Indiana, adventurous eaters have the opportunity to sample some excellent world cuisine. Our family recently headed to Avon's Pho 36 to sample Vietnamese food, and we had a great experience.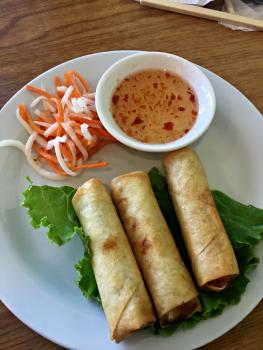 We started our meal with egg rolls, which were a big hit with my kids. Pho 36 offers a wide variety of appetizers, including spring rolls, fried rice cakes and Vietnamese chicken wings. 
For our main course, we decided to try the restaurant's namesake -- pho, a Vietnamese noodle soup. I chose the pho with eye round steak and noodles. My kids are pickier eaters, but I was able to order them plain pho, with just noodles and broth. We all loved our soup; it was very simple but full of flavor. It was also incredibly filling, and made a satisfying meal.
If you're looking for something besides soup, Pho 36 does not disappoint. Other popular menu items include rice plates, vermicelli, and delicious bahn mi sandwiches. There's something for everyone, and the prices are reasonable, so you can sample a little of everything! The Pho 36 menu also offers many options for those who are vegan, vegetarian, or gluten free.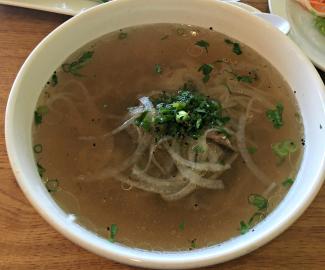 We were new to Vietnamese food, but found the staff at Pho 36 to be helpful and willing to answer all of our questions. They were also kind enough to pack up our leftovers, so we could enjoy our pho again at home. 
If you've always wanted to try Vietnamese cuisine, or if you're looking for something new and different, Pho 36 is a great place to visit. It's a unique culinary experience in an atmosphere that is welcoming and great for families. This was our first visit, but we will definitely be back.
Pho 36 is located at 9655 E. U.S.36, Suite C in Avon. They are open 11 a.m. to 8:30 p.m. Monday through Thursday, and are open until 9 p.m. on Friday and Saturday. They are closed on Sundays.