Meeting up with the NHRA's Technical Operations proved rather eye-opening for this open-wheel racing girl during testing at
Lucas Oil Raceway
in Brownsburg, Ind., last week.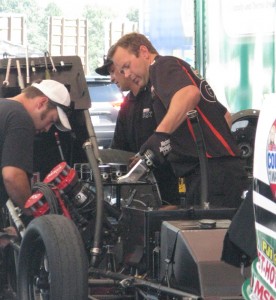 I mean, I have a good idea what goes into putting together these four-wheeled rockets, but some things in drag racing are really different. For instance, did you know that they tear down the engines after EVERY run? That, in itself, is a miracle because it is done in less than 65 minutes. With that in mind, I wanted to put together a list of fun facts and viewing tips to make this year's trip to the Mac Tools U.S. Nationals in
Hendricks County
even better for race fans. For you gearheads, like me, I have a more in-depth piece about recent innovations and the technical side of this sport on my
personal blog
.
What to look for beyond the racing
Every ticket is a pit pass, so fans can almost reach out and touch the cars. Yeah, it's almost like you are a part of the crew.
 Look for all the different parts run by different teams like injector hats, cylinder heads and turbos. The variation is as wide as the number of cars and teams out there. They come in all shapes and sizes, and you can be the judge of whose engineers found the perfect shape and size.
Because they are inside an enclosed area when the cars are warmed up in the pits, the driver and crew right around the car often wear gas masks(as you will see in the time-lapse video below courtesy of John Force Racing). It's an adrenalin-pumping, heart-thumping experience and if they seat the clutch and whack the throttle – well, let's just say that everyone gets a thrill – whether you expect it or not, I dare you not to jump!
In the 65 minutes between runs, every team tears down the engine completely - all the way down to the crank. Fans have access to the pits and can watch every part of the tear down and rebuild process that occurs like a choreographed dance.
The pits are the closest you may get to anything as potent as these nitro-powered rockets! Don't spend all your time in the grandstands, you'll be missing out![youtube]http://www.youtube.com/watch?v=QBhlGIItjGQ&list=UU8x_r855M4mdwKchMOG5J1w&index=1&feature=plcp[/youtube]
A Little Tidbit You Might Not Have Known
I'm glad I was able to talk to driver
Robert Hight
at
John Force Racing
because not only is he a driver, he is also a former mechanic. "I'm a car guy. I still go and work on the car with my guys and try to learn new things and get better," he said. "If we are ever in a pinch, I can pitch in and do just about anything on this car and help out." It's not uncommon to see him turn wrenches but he also helps out in another couple of ways. He packs his own chute, which other drivers do as well. He says it gives him and his crew piece of mind. He inspects the chute to make sure it's perfect because these cars just won't stop at the speeds they are going. He looks for fraying, panels that are blown out and other imperfections after every run because the chutes really take a beating on the asphalt after the car slows down. What he does that not many other drivers do, is mix his own fuel. "That was a job that the previous driver did when I took over. It's another thing that gives my guys more time to prepare my race car," Hight said.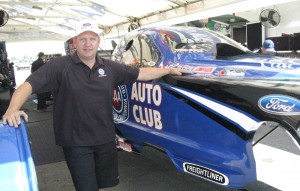 He mixes the fuel at the same ratio every time, but at the last minute depending on the weather or conditions, the mixture is adjusted at the staging line, he said. He likes every aspect of the car – driving it and working on it. Hight quotes former John Force Racing Crew Chief Austin Coil saying, "Somebody has to be responsible for every nut and bolt on this race car." He takes that responsibility seriously as driver and as part of the team. Obviously it works well for him – he is, after all, a Funny Car National Champion! Fans will be able to catch up with Hight and all the other drivers beginning Friday as they compete for the most coveted prize in drag racing, a U.S. Nationals title at Lucas Oil Raceway.
If you want to know more about some of the technical aspects of the sport that I learned last week, visit my personal blog at www.whitesideswords.com.