It's a bird…it's a plane… it's a comic book store! This week I was pleasantly surprised to learn about a new Avon comic book store that just opened in March called, The Android's Dungeon.
As an avid fan of the Marvel movies, my favorites being:
The Avengers
,
Captain America
and
Iron Man
, I was excited to go into a comic book store for the first time. I figured from my years of Marvel movie experience that I knew most of what there was to know about comics. Boy, was I wrong! When you walk inside Android's Dungeon, which is located in a strip mall along U.S. 36 across from the Panda Express at 9719 E. U.S. 36, Suite Q, there are floor-to-ceiling comics, ranging from single comics to books with six to seven comics in each. After entering the store and realizing that I knew nothing about comic books, I was in need of help. The Android's Dungeon is owned and operated by Jonathan Sullivan and his fiancée, Andrea, who are both extremely nice and were very helpful in narrowing down my search and learning more about the comic book world.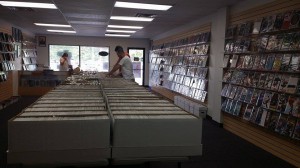 For those of you who don't know much about comics, here is what I discovered. There are two main comic book creators, Marvel and DC. Marvel are the individuals who created The Avengers, Fantastic Four, and X-Men; while DC created Batman, Superman and Green Lantern. The Android's Dungeon contains both these manufacturers as well as many other brands of comics including some local selections. Here are some key things to know about The Android's Dungeon.
Price -- If you are worried about the price of comics, don't fret! The books of comics cost less than $20 while single comics range from about $2-$4.
Hours -- Android's Dungeon is open Monday through Friday from 5:30-9:30 p.m. and Saturday and Sunday from 10 a.m.-3 p.m.
Comic Club -- Android's Dungeon is also starting a book club at 3:30 p.m. on select Saturdays. The next book club is July 12.
Event Saturdays -- Once a month, they invite an artist to come in and sell their comic prints and/or offer demonstrations throughout the day. The next event is July 12.
Kids Specials -- Android's offers a report card special during the school year allowing children to pick out 5 of the $1 comic books for every 'A' on their report cards. Children must bring in the report card. Stop by the store for more information.
The Android's Dungeon is the perfect location for you and your family to get back into reading or just have a fun comic book visit. For more information, you can call the store at (317) 653-1883 or check them out on
Facebook
. You will love the service and be happy with the experience. I know I did!