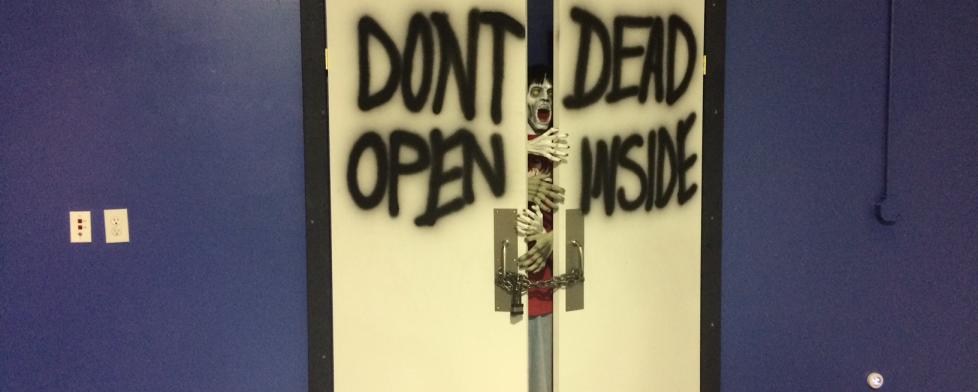 Editor's Note: Unfortunately, this business closed since this article was written.
Zombies have invaded Hendricks County but don't worry the Zombie Outback Response Team will help protect you! If you are curious as to where you can witness this invasion, look no further than Brownsburg. 
A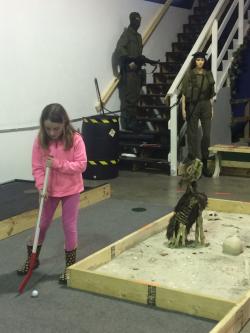 pocalypse Putt Putt, 1650 E. Northfield Drive, Suite 500/600 in Brownsburg, Indiana, in the motorsports district, offers a zombie-themed indoor putt putt course. All ages are welcome to play the fun-filled, 18-hole course, and enjoy the zombie apocalypse.
"Creepy Hours" geared toward older children and adults, begin at 6 p.m. and conclude at 9 p.m. Monday and Friday. All other business hours are appropriate for younger children as the lights are on and it's less scary. Prices are very reasonable. Ages 15 and up cost $5, 5-14 years is $4, and 4 and under is free. Adults can play for only $4 Monday-Friday before 2 p.m.
My family and I visited Apocalypse Putt Putt over the weekend. Since my daughters are ages 8 and 5, we opted for the lights on experience. I'll describe our enjoyable outing later in the post.
First, though, I would like to share some interesting background information regarding the owner, Joe Snell, and how the idea of zombie-themed putt putt came to fruition. Joe, a Gulf War veteran, served in the Army as an infantry team leader and sniper. His son, Jacob, currently serves with the Air Force and is stationed at a base in Texas.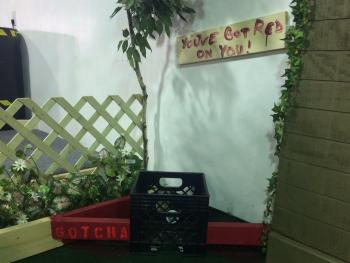 Due to lack of entertainment venues near the base, Jacob discovered a putt putt course in the mall and frequently plays it. Last July, Joe and his family visited and had a wonderful time playing the course. He studied the course construction. He thought it would be fun to build one "someday" as well as start a family business. Well, that "someday" came this past October when Joe quit his day job and began construction. 
The men in Joe's family love zombie movies and television shows, especially The Walking Dead. Joe thought it would be a "blast" to combine putt putt with their love of zombies. This unique idea became Apocalypse Putt Putt, which opened for business by the end of January.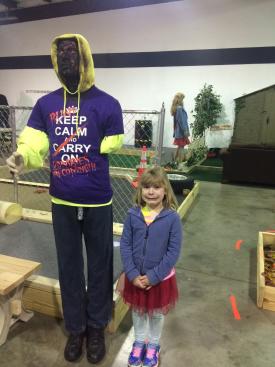 As previously mentioned, my family and I ventured out to play putt putt on Saturday afternoon. Before we entered, a life-size zombie figure stood before us, giving a glimpse of what was to come. Joe warmly greeted us and explained more about the course.
We choose our non-traditional putters. Choices include prop baseball bats, wrenches, axes, etc., which are all weapons that kill zombies.
All 18 holes are numbered and orange arrows also guide groups to the next hole. Many of the holes have "Gotcha" boxes. If your ball is trapped in these three times, you are now a zombie. Only a hole-in-one turns you back into a human.
Life-size zombie figurines with various wounds/injuries, the Zombie Outback Response Team, creepy zombie animals and interactive zombie scenarios are interspersed throughout the course. Some of the props may have been Walking Dead references, but admittedly I have never seen the show, so that was lost on me. Fans of the show would certainly appreciate it. 
My daughters loved looking for "zombie Waldo," who moves to a new spot everyday. 
Unfortunately, our family's average was not high enough to survive the zombie apocalypse. However, we did enjoy friendly family competition and showing off our putt putt skills. We also loved the zombie atmosphere and the attention to detail on the figures, props and interactive scenarios.
Apocalypse Putt Putt is open seven days a week. They offer ongoing special events, such as Taco Tuesday Movie Night and Throwback Thursdays, are offered throughout the week.
If your family wants to dine after putt putting, Apocalypse Putt Putt is conveniently located near local Brownsburg restaurants. We went to Dawson's Too, specifically for the prime rib special. Other nearby eateries include Sal's Famous Pizzeria, Pit Stop BBQ and Grill, So Italian and Green Street Pub and Eatery. 
Do you think your family and friends can survive the zombie apocalypse? Put your putt-putting skills to the test at Apocalypse Putt Putt.