I recently spent a day in Morgan County visiting a new site on the
Rural Routes to Main Street Cultural Trail
. I love to buy items from local artists, so I was pleased to discover the
Art Sanctuary
in Martinsville, Indiana.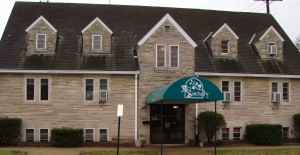 The
Art Sanctuary
is a former Methodist Church that houses studios for nearly 20 artists. The works include painting, weaving, pottery, photography, jewelry making and much more. Artists began taking up residence in 2009 after the church congregation moved to a bigger building. Nancy Maxwell, a painter who was one of the first artists to move in, gave me a tour through the facility. I was able to visit many of the artists' studios. I saw some great artwork throughout the building, and not only was I able to see the work inside each studio, artwork also was on the walls throughout the hallways.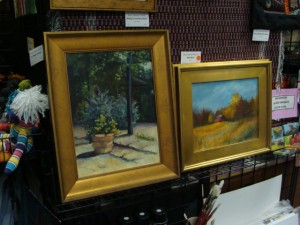 The
Art Sanctuary
is open from 11 a.m.-5 p.m., Thursday-Saturday, but the best time to visit is on the second Friday of each month between 6-9 p.m. During the second Friday, artists will not only have their work available for purchase, the studios will be open. You have the opportunity to speak with the artists and watch them work. During most second Fridays, you can also see a special exhibit though there won't be one in February. An exhibit will return in March in honor of Art Month. For this exhibit, the
Art Sanctuary
will host work by Martinsville students.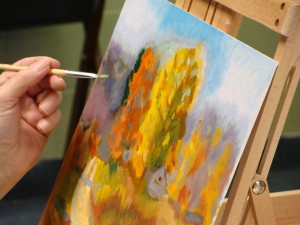 If you are looking for a place to host an event, wedding or reception, the Art Sanctuary also has event space available for rent. I was impressed by the old sanctuary space. The pews are no longer there, so you have plenty of room to set up tables, and you still have the charm of the stained-glass windows and wood ceiling. I'm told the acoustics are great.
If you go, there is a parking lot across from the Sanctuary on Sycamore Street. You are only a block away from downtown Martinsville where you can visit a few of the stops included on the Rural Routes to Main Street Cultural Trail. And if you want to plan an overnight stay, it is an easy drive back to Plainfield, which has several
hotel options
.
Art Sanctuary
190 N. Sycamore St.
Martinsville, Indiana
(765) 342-8422
11 a.m.-5 p.m., Thursday-Saturday
Best time to visit: Second Friday of each month between 6-9 p.m.