Every time Visit Hendricks County plans our new Travel Guide, we attempt to make it eye-catching to a visitor enticing them to pick it up and so packed with information they can't put it down and want to visit our many wonderful attractions.
But this year we took it to a whole, new level.
Our marketing agency came to us with an out-of-the-box idea we had never tried. Why not incorporate a local artist's work into our guide to get his take on some of our top attractions?
Needless to say, we loved the idea and a partnership was born.
The Artist
A teacher by trade, Justin Patten started painting with his unique style in 2010 after growing up in South Bend and attending IUPUI and the Herron School of Art. He and his wife Rachel live in Zionsville with their two boys, Lyle and Troy.
His wife and boys also like to help with the business. And the family also has a dog, cat, fish and six chickens. 
Best of all considering he was teaming up with Visit Hendricks County, his family loves to travel around the world for inspiration.
His Work
He started making his artwork into products in 2019 out of his home under the name Storm Striker Art. Justin also likes to paint custom work such as portraits, dogs, landscapes and "favorite places" from photos.
Anyone who knows his work would describe his art as bringing energy and excitement into everyday scenes or logos.
He is best known for combining his loves of sports and art and is currently licensed with 12 colleges and the Indianapolis Motor Speedway. His absolute favorite and most recognized painting is his re-creation of the Indianapolis Motor Speedway logo.
Patten said his style evolved over time. He didn't want to just paint like everyone else. He wanted his work to stand out, so he came up with what you see today. He describes it as art with movement.
Our Partnership
Patten said this was the first time he ever worked on a project like this and really never considered it as a possibility.
He was excited to even be asked and couldn't wait to see how we would use his creations in our Travel Guide.
Everything he created for our guide is totally original, and he said using his artistic style on these new images proved to be a real test. We had him put his spin on some of our top visitor attractions including The Shops at Perry Crossing, Oasis Diner, Royal Theater, the hot air balloons at the Hendricks County Rib-Fest & BBQ event, the Lucas Oil Indianapolis Raceway Park logo and even our Visit Hendricks County logo.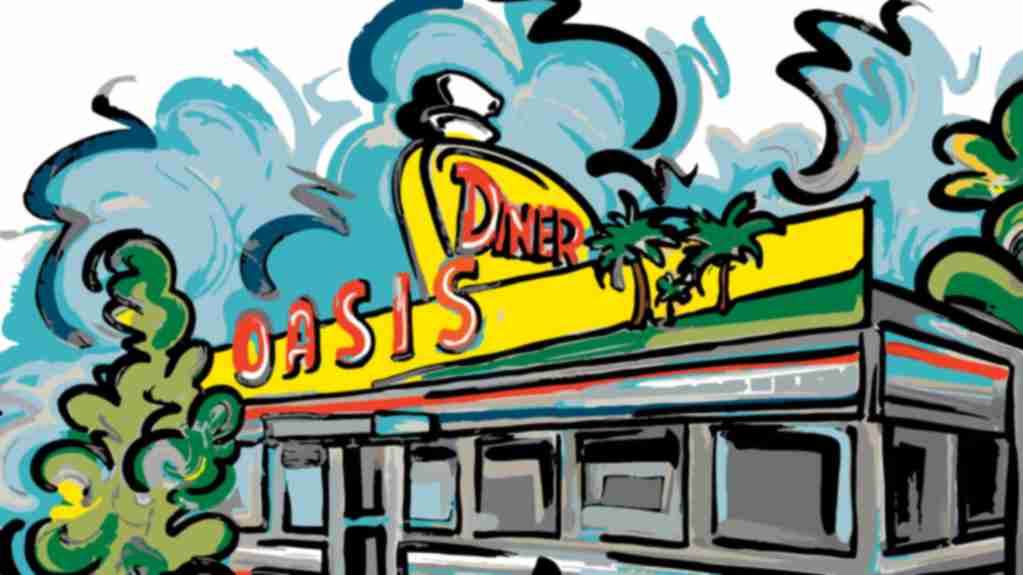 Free Visitor Guide!
Get your insider guide to all things Hendricks County by ordering a FREE Visitor Guide. Download or order a print copy today!
His Favorite Creation For the Travel Guide
Patten said The Royal Theater painting that landed on the cover of our Guide was his favorite painting he commissioned as part of this partnership because he used to go to old theaters like that when he was a kid.
So, painting it brought back a flood of memories.
"There is nothing like those lights on the marquee," he said. 
But he enjoyed creating them all, and can't wait to actually visit some of the attractions and explore Hendricks County with his family.
They are planning a day trip to visit the area, and he is most looking forward to eating at the Oasis Diner, which he also painted for our guide.
Order the Travel Guide
The Visit Hendricks County Travel Guide remains free despite it being packed with more than 40 pages of trip ideas, amazing imagery (including Patten's artwork), a pull-out restaurant and hotel map, listings and so much more.
You can order your guide today and begin planning your trip to Hendricks County by clicking on the button below: