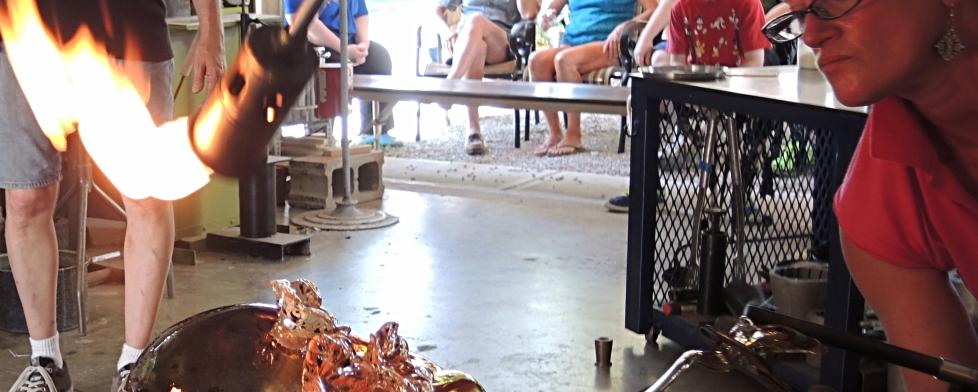 If you are all about the arts, then you may have just stumbled upon some of the best under-the-radar talent in the Midwest. Hendricks County boasts some amazing Indiana artisans and great cultural opportunities that provide authentic experiences for visitors.
Whether it's clay, paint, glass, confections, wine, food or anything else you can think of, we likely have an expert here who excels in it. If you are more into Indiana's culture and history, we have that, too, especially as we celebrate our state's bicentennial anniversary in 2016. In fact, one of our true historic landmarks is the Hendricks County Historical Museum in Danville, which showcases the former sheriff's residence and county jail.
In addition to the museum, what follows is an insider's guide of recommendations of Hendricks County activities from someone who has lived and worked here for more than 10 years. You may want to check out all of these attractions or use it as a foundation to create your own trip based on your interests and length of stay whether that is for a day, weekend or even longer.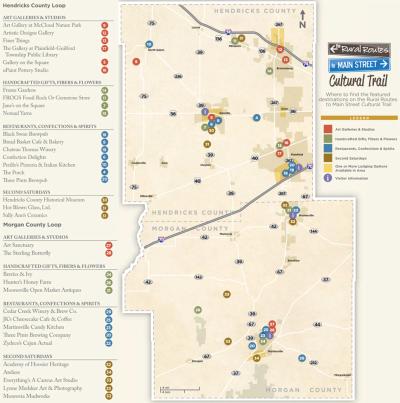 Rural Routes to Main Street Cultural Trail
The absolute easiest way to find many of these attractions and the people behind them is to explore the Rural Routes to Main Street Cultural Trail. We have neatly bundled together more than 30 stops in two counties into a self-guided driving tour.
The cultural trail currently showcases art galleries, studios, handcrafted gift shops, restaurants, confectioneries and other attractions in Hendricks and Morgan counties. You can even download the Rural Routes to Main Street Guidebook by clicking here. 
This fall, the trail will broaden its reach by extending into neighboring Putnam County.
Art Galleries & Studios
With so many choices, where do we begin? Perhaps where this entire adventure started. The cultural trail originally sprouted through the cooperation of Visit Hendricks County and the Hendricks County Arts Council.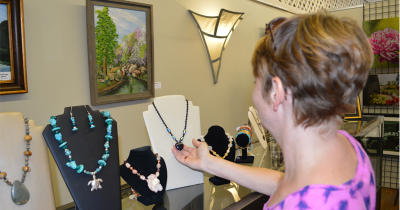 The arts council's signature storefront, Gallery on the Square in Danville, continues to provide an amazing showcase for local artists as a co-op art gallery. Jewelry, pottery, fabrics, canvas, photography and much more make this a must-see attraction.
Hot Blown Glass, Ltd., a backyard studio in Clayton is another attraction we highly recommend. Visitors can watch Indiana Artisan Lisa Pelo shape molten glass into works of art, but make sure you plan your visit to Hot Blown Glass as it is one of seven Second Saturday sites (these cultural trail locations only open to the public on the second Saturday of each month).
In Morgan County, a number of artists showcase their work in a re-purposed former church now known as the Art Sanctuary in Martinsville. You never know what creation you will find as you explore each room.
Other galleries and studios we recommend exploring include uPaint Pottery Studio in Plainfield, The Sterling Butterfly in Martinsville and Monrovia Mudworks (another Second Saturday site) in Mooresville.
Confections & Spirits
A couple of doors down from Gallery on the Square in Danville, a tiny, yet adorable storefront showcases some of the best chocolate art around. How would you like to sink your teeth into a size 7 women's high heel shoe made entirely of chocolate? You never truly know what you will find at Confection Delights, but it is always worth a visit.
Another popular visitor destination can be found in Plainfield near the I-70 interchange. Chateau Thomas Winery offers tours by appointment and VIP tastings of its award-winning fine wines that have offered richness, dimension, elegance and texture since the 1980s.
Tours include seeing the wine-making process first hand including the intricacies that make it such an art form and then trying various wines in the tasting area.
Finally, a trip on the Rural Routes to Main Street Cultural Trail wouldn't be complete without a visit to the Martinsville Candy Kitchen. This old-fashioned, candy-making destination on the Morgan County Courthouse Square showcases the traditional hand-pulling techniques that have been passed down through generations. The Candy Kitchen is a must during the holidays when they make fresh candy canes from scratch.
Restaurants
Some of the best collection of restaurants also can be found on the trail.
Eateries like the Bread Basket Cafe & Bakery in Danville with their amazing made-from-scratch breads and desserts; Oasis Diner in Plainfield, known for its tenderloins and handcrafted sodas; Perillo's Pizzeria in North Salem and all of its authentic Sicilian dishes; and Zydeco's Cajun Actual in Mooresville with its Louisana bayou cuisine are merely a sampling of what makes the trail a true food connoisseur's paradise.
Planning Your Trip
Accommodations - We have some great hotel options if you plan to stay for more than one day, check out all of our hotels here. Because the trail encompasses two and soon to be three counties, we recommend staying at hotels in Plainfield.
Restaurants - You can see a full listing of all of our restaurants here.
Events - I highly recommend checking out our extensive Events Calendar once you decide what dates you are planning to visit as our summer is filled with festivals, live music and much more.
Extend Your Stay - Just outside of Hendricks County, I highly recommend visiting the Indianapolis Museum of Art as Hendricks County is just minutes from Indy.