The deck of
The Coachman Restaurant & Lounge
in Plainfield has been a favorite spot for locals and visitors alike for decades to drink, dine, and enjoy live music. In recent years, Ashley and the Cosmos have gained traction as a fan favorite, and this year, the band will kick off the summer music series on the deck during Memorial Day weekend.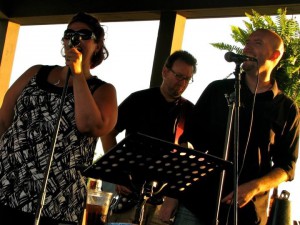 Known to many on the westside as a brilliant singer, Ashley Wilcox took a few minutes to talk about the Cosmos, the upcoming summer shows, and her favorite part of playing at the Coachman.
When did you start Ashley and the Cosmos?
August of 2010. I had come to meet some great musicians along the way who encouraged me to start my own band with my own vision. This year will mark our fifth season.
How long have you been singing?
Around the age of 5, I wanted to enter a beauty contest because my cousin was. My mom told me that I had to have a talent, and I told her I could sing. She laughed, but signed me up anyway. I worked with a lady in our church to prepare the song, "He's Still Working On Me." A week or so before the contest, I broke my arm. I didn't have a chance at winning the beauty portion due to that, but when I sang the song, "He's Still Working On Me" with my arm in a sling, it made for a good prop. I won the talent portion of the contest. I continued singing in churches and special events all over the Midwest. At Plainfield High School and beyond, I was part of the Belles et Beaux showchoir and musicals, performed summers in Kings Island shows, toured internationally with a group called The Continental Singers, worked with the Indianapolis Opera Company, and so on. I lived in New York for a time and attended American Musical and Dramatic Academy.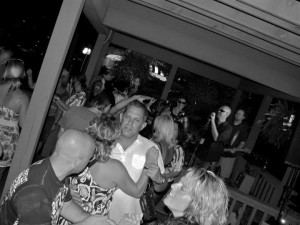 What is your favorite part about playing at the Coachman?
Other than The Coachman, we don't play many other restaurant/bar atmospheres. We are primarily a wedding and special event band, but we often invite couples and families out to The Coachman to see us perform prior to their wedding, because it's such a great atmosphere. We love playing as the sun goes down (even though there have been times it has been over 100 degrees!) to family and friends. We always come early to eat dinner because the food is great, as is the staff. While the area we play is considered a bar and you must be 21 to enter, we also have families set up a picnic area in the grass to enjoy the music.
What other projects are you/the band working on?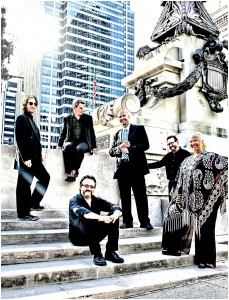 Heading full-speed into wedding season, we play weddings just about every weekend. This was the second year we were rated by local brides and voted The Knot "Best of Weddings 2014 Pick" for wedding bands. We're also returning to The Indiana State Fair on the Main Street Stage on opening night, Aug. 1 and 10.
If You Go:
The Coachman6112 Cambridge Way, Plainfield, IN 46168317-839-4545
Website
 Ashley and the Cosmos' Dates (Music 8 p.m. to midnight on the deck):
Friday, May 23
Friday, June 20
Saturday, July 12
Saturday, July 19
Saturday, Aug. 16
Saturday, Sept. 13