Anyone who thinks you can't get away in Hendricks County has never ventured to Avon Gardens in Avon, Indiana.
I had visited in the past to purchase a tree, but boy did I miss out on the true essence of this tranquil hideaway that's slightly off the beaten path. Avon Gardens started about 25 years ago when Karen Robbins, who has an extreme passion for plants and gardening, dug plants out of the ground and began selling them on the weekends.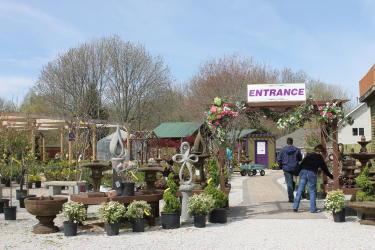 Those humble beginnings sprouted into a garden center that has blossomed into much more. Now a regional gardening destination, Avon Gardens sits on 10 acres along County Road 91 North and County Road 625 East. The site includes flowing gardens, a pond, a few buildings and even a picturesque ravine.
Recently featured in Midwest Living Magazine, Avon Gardens regularly draws visitors from other states who want to walk through the magnificent gardens and purchase some of the unique, whimsical garden art that is on display. Robbins said the gardens have become a showpiece in so many ways for her business.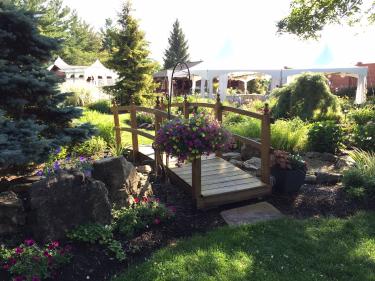 In addition to the visitor interest, the sun gardens and shade gardens provide inspiration and a way for customers to see how younger plants they may be considering for their own backyard will eventually mature.
The gardens also opened a new door to the business as a prime location for outdoor weddings. In fact, Avon Gardens hosts more than 100 weddings each year. And when you select Avon Gardens for your wedding and reception, you rent the entire 10-acre facility.
Avon Gardens even hosts periodic events and classes. Garden staff members discuss best practices and provide a variety of gardening tips during these sessions. Check their website for all upcoming classes and events.
"If this was still just a garden center, we wouldn't exist anymore," Robbins told me. "As sad as it is for me, people have gotten away from a garden being a source of inner joy. Life has just gotten too busy."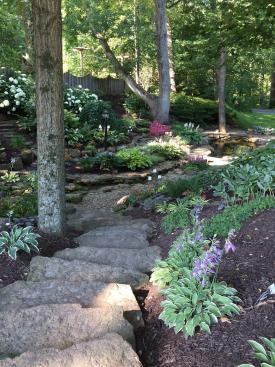 I didn't admit it to Karen, but I must confess that I'm the type of person she is talking about. I don't enjoy gardening, landscaping or even mowing. Yes, I probably do think I'm too busy.  
But I will tell you after talking to Karen, I drifted away into the sun garden and began to take in a little of what she had described to me. I stopped for a moment to marvel at the beauty, listen to the birds chirping and the water trickling across some rocks into a small pond while feeling the gentle breeze on my face. For a few minutes, I wasn't in Avon, Indiana, anymore. It was as if I had been transported to that same oasis that draws so many visitors annually.
Do yourself a favor and visit Avon Gardens soon. It doesn't cost anything to tour the gardens, and there really is no better time than either the spring when the gardens awaken from their winter slumber or summer when everything is in full bloom. You'll be glad you did.
Avon Gardens
6259 E. County Road 91 North (317) 272-6264 Avon, Indiana Hours: 10 a.m.- 7 p.m., Wednesdays-Saturdays and Noon-4 p.m. Sundays