You can finally pick apples at Beasley's Orchard!
While that may not sound like a big deal to you, I couldn't be more excited. You see I have asked Debbie Beasley for years and more recently Calvin Beasley why they never offered u-pick at their orchard.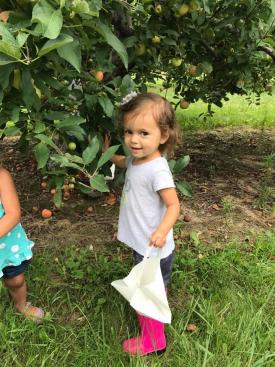 U-pick has become a fun fall tradition for my family every since my 10-year-old son was 2. We have multiple pictures of him through the years climbing through apple trees and picking apples, but we always had to venture outside the county for that special treat. So, it comes with great pleasure to announce that Beasley's Orchard added u-pick to their long list of activities on their farm.
But something many people don't know is that September is the peak season to pick apples. Many regulars, yourself included, always waited until October, but Calvin expressed to me that September actually remains the best month, and that this season so far has been somewhat slow at Beasley's u-pick area.
U-pick is available seven days a week and follows the same hours as the market, 9 a.m. to 6 p.m. Mondays through Saturdays and noon to 6 p.m. on Sundays at their orchard, 2304 E. Main St., Danville.
During the weekends, a tent will be set up out by u-pick area for visitors to pay and pick up the size bag they wish to fill. On the weekdays, guests are asked to go into the market (barn) to pay and get a bag before going into the designated areas of the orchard for u-pick.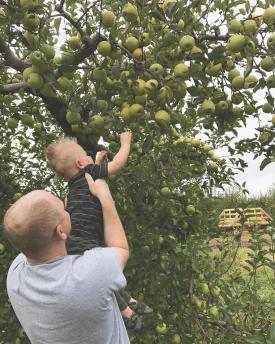 Visitors can fill their bag however they wish with different varieties that are available and are in the u-pick area. Cost is $7 for a 1/2-peck bag (about 12 apples); $12 for a peck (about 25 apples) and $20 for a half bushel (about 50 apples).
U-pick will only be allowed in a small portion of their orchard and eventually include about 10 varieties of apples such as Gala, Golden Delicious, Jonathan, Ida Red and a few others. Beasley's plans to offer u-pick until all the apples are picked, but varieties ripen at different times, so Calvin expects u-pick will be available into October.
I know a lot of you are Honeycrisp fans. That variety will not be part of the u-pick experience though visitors can still buy it in the market. You can visit Beasley's website for more information and updates on what apple varieties are available to pick and/or purchase throughout the rest of the season.