Most people, including myself, conjure certain images when we hear the words Beasley's Orchard in Danville, Indiana, such as pumpkins, hayrides and apples. I don't even consider visiting this lush farm until the leaves start to change and I need pumpkins to carve for Halloween.
When I was sent to check out Beasley's summer plans, I was pleasantly surprised to find the farm not only open for summer, but offering many fun features and events through the warmer months that I wasn't even aware of! They are aiming to be an agritourism destination by offering u-pick strawberries, a daily farmers market, a late summer Sunflower Festival and their ever-popular Barnyard Bonanza area for kids to play.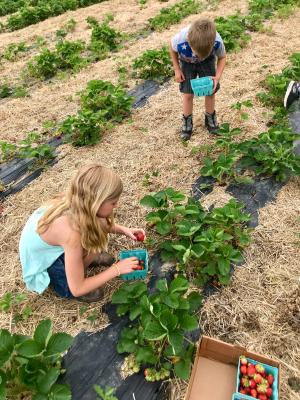 My kids and I went first thing on a late morning last week, and after almost three hours of picking berries and playing in the barnyard, I still had to drag them away.
U-Pick Strawberries
One of Beasley's most popular offerings this time of year is their u-pick strawberries, which is only open about another week or two this season. It's the second year this has been offered, and it's been so popular that they are working to add another acre and a half of strawberry plants for next year's season.
We showed up at 9 a.m. sharp, when the fields opened, and we still were in a decent line to get our baskets. Picking berries was a delight, and we easily filled four pints full to take home.  I saw people of all ages picking, from serious pickers to toddlers to teenagers.
Strawberries can only be picked about every third day, so make sure you call ahead or check their Facebook page to see if the fields are open for picking!
Farmers Market
Beasley's market is open daily from 9 a.m. to 6 p.m. Monday through Saturday and noon to 6 p.m. on Sundays. The market features locally grown produce, the cider bar (don't leave without trying their apple cider slushie) and many types of jams, jellies and sauces.
This summer will also feature their bulk produce ordering system. There will be about four days throughout the season (again, because it's a farm exact dates can't be set yet but call or check Facebook) where you can order peaches, blueberries, sweet corn or tomatoes in bulk.
Sunflower Festival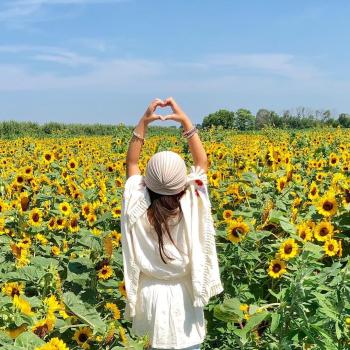 Also make sure you don't miss their Sunflower Festival in mid-August! Last year, Beasley's had a one-acre sunflower field for the first time as simply something fun to offer. It became so popular that they're working on an event to highlight the beautiful and tall flowers, free for people to visit or even to come cut their own bouquet. Stay tuned for dates.
Labor Day weekend will kick off Beasley's u-pick apples with an event to highlight this family-fun activity. I have picked apples with my kids before, and there's just something wholesome about picking which apples they love best, deciding on deserts or simply snacking on the sweet fruit they picked themselves.
Barnyard Bonanza
Last, but not least, there's good, clean fun for the kiddos once they've done all the hard work of picking. The Barnyard Bonanza family fun zone features a giant jumping pillow (my kids' favorite), a spider web climber, a sand box, sports ball zone (baseball, basketball, football), tetherball and teeter totters!
It's the perfect place to grab a cider slushie and relax while the kids go wild. Because we all know even picking strawberries doesn't wear them out.
This place has grown so much since I went as a child for field trips and pumpkins. Whether you're a new visitor to Hendricks County or you've been here for years, come and visit Beasley's to see their new additions. You won't be disappointed. Hard work and farm fun is good for everyone in the family.
Stay tuned for exact days for events on their Facebook page or contact them at (317) 745-4876.