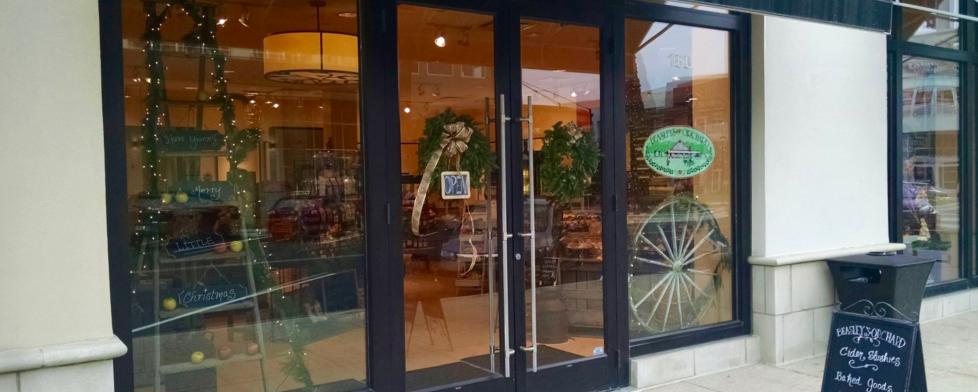 I have some outstanding news for Christmas shoppers looking for unique and local one-of-a-kind gifts:  Beasley's Orchard has opened a temporary pop-up store in The Shops at Perry Crossing in Plainfield!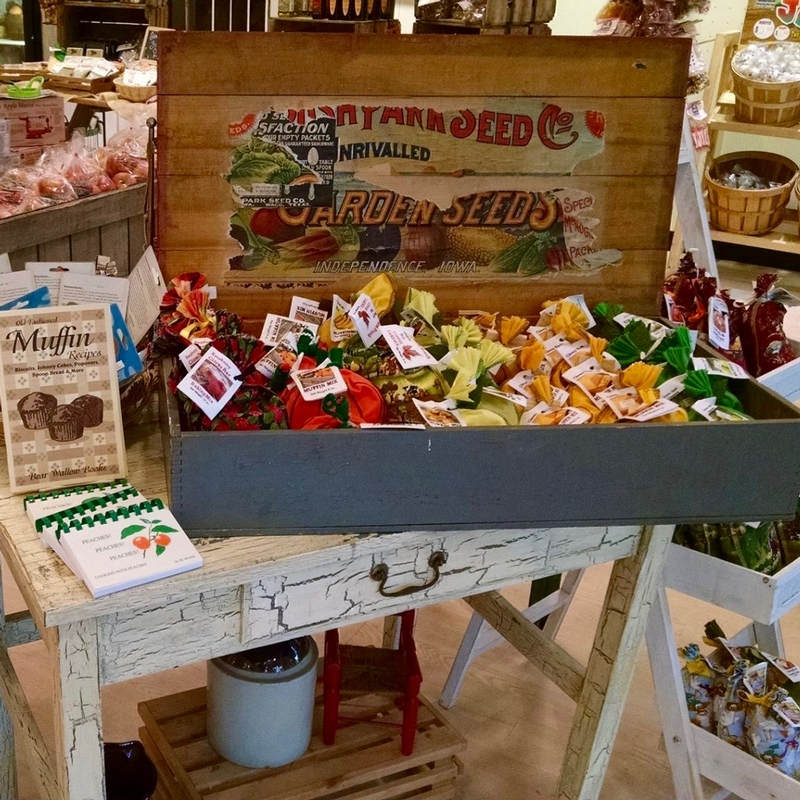 That's right, you can now get your hands on all of the delicious items offered by Beasley's Orchard at either their farm, 2304 E. Main St. Danville, or in their new shop in Plainfield, providing easy access to everyone in and around Hendricks County.
I had to venture down to The Shops at Perry Crossing because it was hard for me to imagine a Beasley's Orchard display anywhere other than inside their historic barn in Danville. While I was there, I happened to run into the Retail Manager of Beasley's Orchard, Kathy Calhoun, who provided me all sorts of great information to pass along to everyone.
First of all, the pop-up store is easy to find. It's situated right in between Justice and Bath & Body Works, two doors down from Victoria's Secret. Click here for a map of The Shops at Perry Crossing, and then look for space 42 within the red block of stores on the map. 
The store is open during normal mall hours, but only until Dec. 31.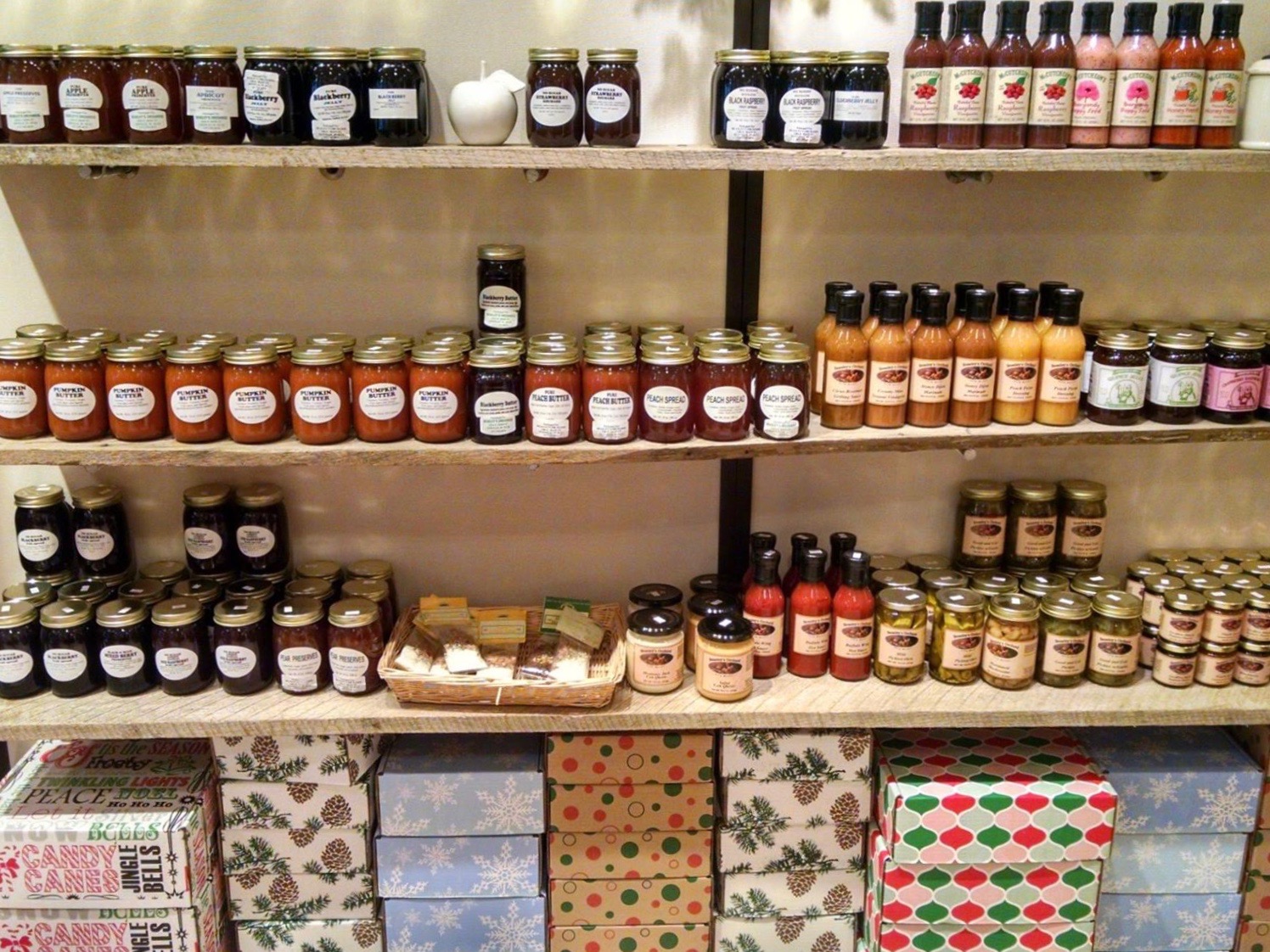 Walk in the store, and you're immediately enveloped by the smell of fresh apples. The shop is well-lit, clean and easy to navigate, plus the staff there is friendly and happy to help you find or create the perfect Christmas gift.
Kathy showed me all through the store, which is loaded with the sauces, spices, jams, jellies, syrups, baked goods, cider and, of course, fresh apples and fruit that patrons of Beasley's Orchard in Danville are accustomed to finding there.
Then she pointed out some of the décor. The walls are decorated with pallets from the orchard that have been painted with chalkboard paint and now serve as signs. Fresh fruit is on display inside of big wooden crates from the orchard. A set of shelves are made from the wood of an old ticket booth constructed by Milton Beasley, who founded Beasley's Orchard back in 1946 with his wife, Irene. 
Regular customers of Beasley's Orchard will certainly appreciate the familiarity and nostalgia within the pop-up shop. New customers will enjoy the feel of country charm that makes Beasley's Orchard so popular.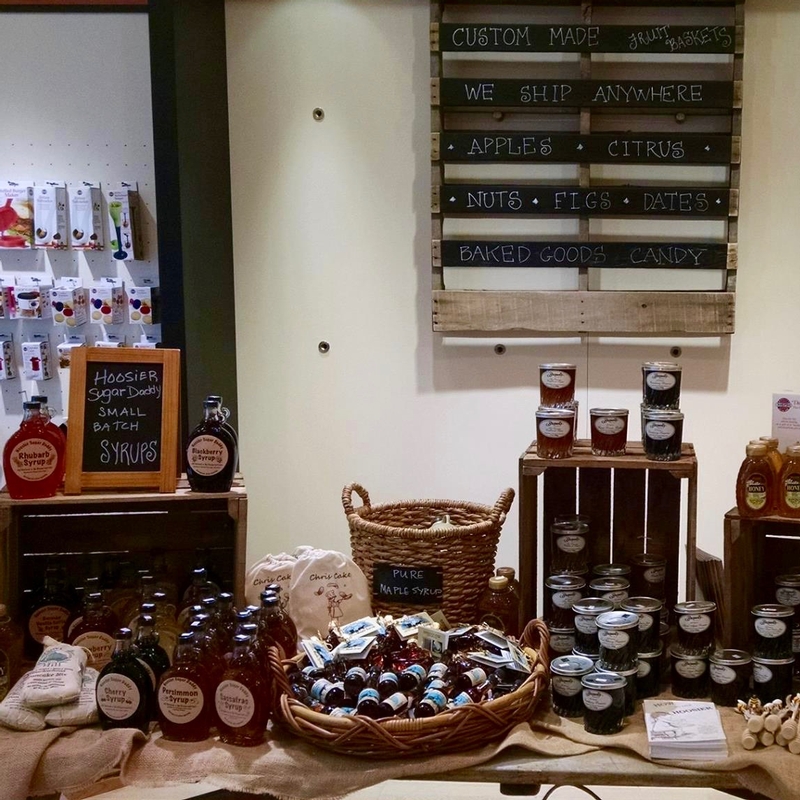 I asked Kathy which items are most popular in the store, and she said that the gift boxes are flying off the shelves. Shoppers can choose from a variety of gift box designs and then take the box throughout the store, filling it with goodies to make a perfect personalized Christmas gift.
Hoosier Sugar Daddy all-natural syrup, which is made in Martinsville, Ind., is another hot item in Beasley's pop-up store (and let me tell you, Hoosier Sugar Daddy syrup is out of this world!).
Decorative fabric bags containing muffin mix from a small business in Bloomington, Ind., are another extremely popular item, as are baked goods hand-made by Jennifer Cline at Beasley's Orchard. (Check out Jennifer's holiday cookies. The melted snowman cracked me up!)
Kathy also said that the staff at the shop can help find or create gifts for those who are difficult to shop for. She mentioned a customer whose only guidance was, "I need a Christmas gift for my dad." The staff helped her put together a one-of-a-kind gift box containing grilling spices, sauces and other accessories, and she left happy and with her mission accomplished.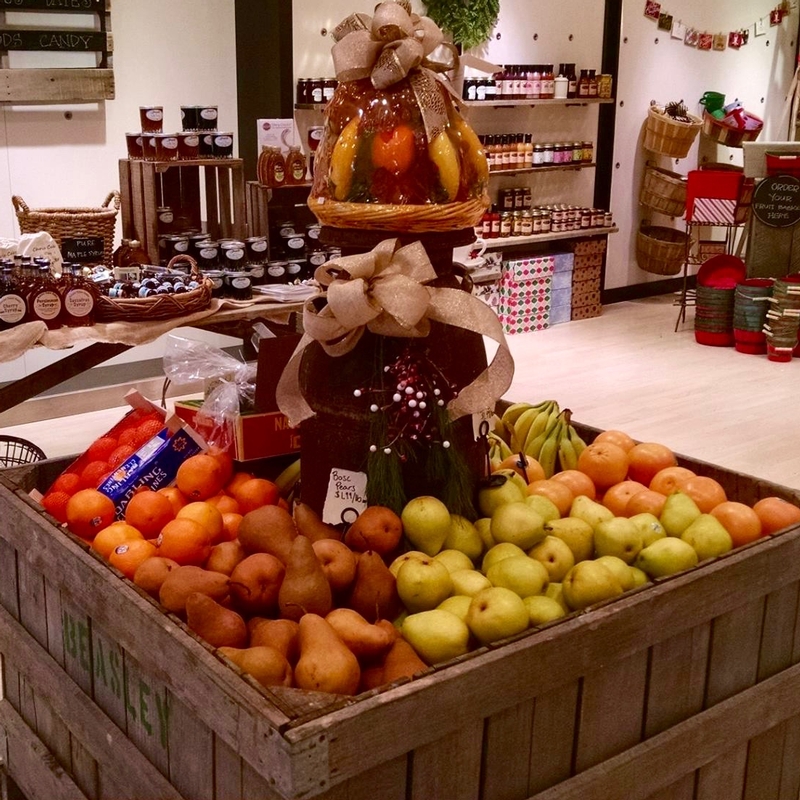 Beasley's Orchard can create fruit baskets, gift baskets, or help you assemble the makings of a unique Christmas gift for family, friends, coworkers, bosses, teachers, or whoever you need to shop for right there in the pop-up store. They also carry some pre-packaged items that make for the perfect grab-and-go type of gift. 
And, of course, it wouldn't be a Beasley's Orchard shop without their locally-grown apples, their phenomenal apple cider and everything else "apple" that you can think of. They even have an apple slushy machine there! Plus, they offer free samples of slushees, cider, cookies and more!
"I've seen people literally crossing names off of their Christmas shopping list as they've picked up items in our store," Kathy told me. "It's been a huge success."
Everything in the store is either grown or made at Beasley's Orchard in Danville, or it comes from locally-owned small businesses in the area, so shoppers who are looking for a truly unique, fresh, delicious and memorable Christmas gift need to make their way to The Shops at Perry Crossing in Plainfield by Dec. 31 and explore the new Beasley's pop-up store!