Do you like camping? After all, what's better than the sights, smells, and sounds of the great outdoors? If you're wondering where a family might go camping near Hendricks County, Indiana, I have some suggestions for you.
As an added bonus, I've gotten some insight from my dad based on his experiences. My parents enjoy camping all around Indiana in their RV trailer, and Dad likes to kayak, so he's got some good advice for you.
For the purposes of this blog post, I'll use Danville, Indiana, as the starting point for our theoretical road trips to campgrounds since Danville is geographically centered within Hendricks County. And since I don't like to spend a lot of time in the car when I only have a couple of days to camp, I'll keep our timeframe to within an hour of Danville.
Turkey Run State Park 
When I asked Dad for his favorite campgrounds around here, Turkey Run State Park in Marshall, Indiana, was first on his list. Turkey Run is full of sandstone gorges, ravines, old growth trees and wildlife. Sugar Creek runs through the 2,382-acre park, which is great for swimming, fishing, tubing, canoeing or kayaking.
Hiking trails of varying skill levels and equestrian trails wind all through the property, plus there are basketball courts, a volleyball pit, tennis courts, a nature center and much more.
Turkey Run boasts more than 200 Class A modern campsites with electrical hookups, and their camping areas are equipped with modern restrooms and showers. A camp store is there, too, to provide campers with firewood, food and other necessities.
Dad suggests that if you don't need an electrical hook-up and are looking for a more rustic camping experience, you should explore nearby Shades State Park. It has more than 100 non-electric campsites, 7 backpacking campsites and 10 canoe campsites. Shades State Park is popular among hikers and canoeists. 
Turkey Run State Park
Shades State Park
McCormick's Creek State Park 
Next on Dad's list is McCormick's Creek State Park in Spencer, Indiana.
(Note: On March 31, 2023, McCormick's Creek State Park took a direct hit from an EF3 tornado that ripped a four-mile-long swath of destruction through the park. At the time of this posting, the campground is closed indefinitely and amenities at the park are limited as the long, ongoing process of cleanup continues, so be sure to check their website before planning your visit. Perhaps by the time you're ready to try camping at McCormick's Creek State Park, one of Dad's favorite campgrounds will have reopened.)
Did you know that McCormick's Creek is the oldest state park in Indiana? Dedicated on July 4, 1916, this 1,924-acre park boasts more than 10 miles of hiking trails, waterfalls, equestrian trails, an inn, a nature preserve, a swimming pool, fishing in the White River, a recreation center and, of course, camping.
McCormick's Creek offers 190 Class A modern campsites with electrical hookups and nearby modern restrooms and showers, plus 33 primitive campsites with pit toilets and no showers. Additionally, there are two group campsites and a youth tent campsite.
Dad says that if you and your family want to stay in a cabin, McCormick's Creek State Park has those, too. 
McCormick's Creek State Park
Prophetstown State Park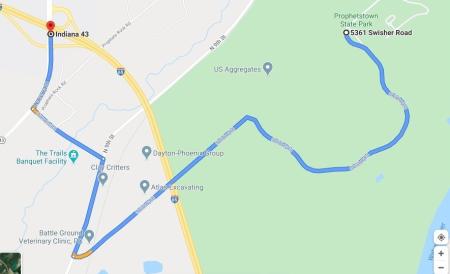 In direct contrast to McCormick's Creek State Park, Prophetstown State Park in West Lafayette is the newest state park in Indiana, established in 2004.
Prophetstown is near the convergence of the Wabash and Tippecanoe rivers, and it offers 55 Class A modern campsites with full hook-ups, another 55 campsites with electrical hook-ups, plus hiking trails, bicycle trails and an aquatic center.
Word to the wise: Many mapping services (including Google Maps, Mapquest, and Apple Maps) are providing incorrect driving directions to the park.
Use Exit 178/SR 43 north of Lafayette to access the park. Do not use SR 225. There is no park entrance and the road has a one-lane bridge with a weight restriction.
Dad says to make sure that you check out the Farm at Prophetstown (a working farm), good flat biking trails, Wolf Park in Battle Ground and the Tippecanoe Battle Field and Museum in Lafayette, while you are in the area.
Prophetstown State Park
Raccoon Lake State Recreation Area 
Outside of Rockville, to the west of Hendricks County, lies Raccoon Lake State Recreation Area and Cecil M. Hardin Lake. Visitors to this 4,065-acre property can enjoy hiking, fishing, boating, waterskiing, swimming, picnicking, the Historic Mansfield Roller Mill, a camp store, overnight camping and much more.
Cecil M. Hardin Lake within the SRA is 2,060 acres in size.
Raccoon Lake offers 240 campsites with electrical hook-ups, 37 sites without electricity and 35 primitive campsites.
Dad says that the Portland Mills Ramp outside the SRA is good access to some excellent kayaking.
Raccoon Lake SRA
30 miles from Danville
(765) 344-1412​
Pecar Park
I couldn't leave out the one option here in Hendricks County. Pecar Park, a relatively new nature park in Avon, boasts 46 acres of mostly untouched land with a playground, Nature Center and campsites. What it lacks in amenities of some of the sites listed above, it makes up for in providing solitude away from the crowds.
Located at 5203 E. County Road 150 North in Avon, it is away from the hustle and bustle but is easy to find. A Nature Center is tucked back away from the street and provides some educational opportunities including checking out the resident tortoises inside.
The park has some wide open spaces and a couple of trails so far, but is far from a finished product. Future plans include a bird aviary, kayaking on a pond, a low ropes course and more.
The park currently boasts eight primitive campsites, complete with a fire ring, picnic table, trash can and space for two tents. Campsites can be used Memorial Day to Labor Day. There's also a community fire pit for the campsites and restrooms and showers available on site.
All reservations must be made in advance online by clicking here.
Pecar Park
7 miles from Danville
(317) 745-0785​