Steak is my ideal meal. To me, there's not much better than a perfectly cooked steak. When I think of going out to eat for a steak dinner, it makes me think of good times with family and going out to celebrate an event, whether it was good grades, a birthday or another happy occasion.
Visit Hendricks County
 posed a question to its 
Facebook
 followers recently to get an insider's perspective on best places to find a big, juicy steak locally. After receiving many responses (you can see them all by clicking
here
), here's a recap of the top favorites.
B Squared Bar & Grill
This popular bar and eatery offers a selection of pleasing bar food, but one Facebook fan recommends their ribeye steak dinner and writes that it is  "awesome." Another said, "Everything I've eaten there is soooo good!! Great atmosphere too!!"
Fans of casual dining will enjoy B Squared's fun, laid-back atmosphere, good food and drinks in an adults-only setting.
B Squared Bar & Grill, 1430 N. Green St., Suite L, Brownsburg, (317) 858-1569. *Note: B Squared Bar & Grill is a bar, so you must be 21 to dine here. *Smoking is permitted. *Outdoor dining fans: B Squared Bar & Grill has a large outdoor dining section.
Read more about B Squared Bar & Grill here.
Charbonos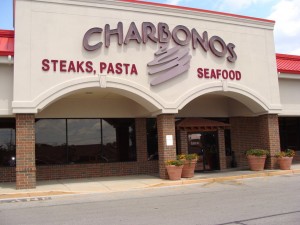 If you're looking for fine dining and a first-rate experience, Charbonos is the place for you. You'll also find appetizing and well-prepared steak entrees like Filet Mignon and New York Strip. Just don't leave without purchasing a bottle or two of Charbonos signature dipping oil (one of
Hendricks County's 5 Signature Food Items You Can Take Home
). Charbonos, 128 N. Ind. 267, Suite 102, Avon, (317) 272-1900.
Read more about Charbonos here.
The Coachman Restaurant and Lounge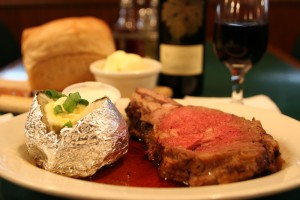 You'll feel like a member of the family when you visit this independently owned Plainfield restaurant, located within a few minutes of the airport and hotels. You won't go wrong when you order the "Specialty of the House," the well-seasoned and mouthwatering, Prime Rib Dinner. The Coachman Restaurant and Lounge, 6112 Cambridge Way, Plainfield, (317) 839-4545.
Read more about The Coachman Restaurant and Lounge here.
Check their 
website
 for a list of specials and their entertainment calendar.
Dawson's Too Sticks & Stones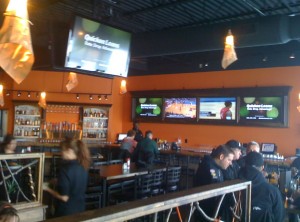 There were many Facebook votes for Dawson's Too, a cozy restaurant/bar with great food and service. My friend Tracey, raves about the Prime Rib dinner, which is also a special on Friday and Saturday nights. Dining with friends? Sit in their bar section, which has several televisions and is an ideal spot for watching sports. Dawson's Too Sticks & Stones, 773 E. Main St., Brownsburg, (317) 858-8400.
Read more about Dawson's Too Sticks & Stones here.
Check their
website
for daily specials. We can't do a round-up without a few other mentions by the Facebook fans including:
Claddagh Irish Pub
(Plainfield),
Longhorn Steakhouse
(Avon) and
Texas Roadhouse
(Avon). One of my friends also told me not to leave out
Savor Thyme Cafe
 in Brownsburg, where she said they have an excellent Filet Mignon.
What's your favorite restaurant for steak in Hendricks County? We'd love your input. Leave us a note in the comments section below.