Recently, we put together a great guide to the various dining options here in Hendricks County, Indiana, using Yelp! reviews.
Today's post, however, is specifically geared toward our many awesome visitors. 
We've all been there...visiting a new town, so exciting, but not quite sure where to go and how to make the most of the visit. On the many road trips my family has been fortunate to take, we often waste a considerable amount of time deciding on where to eat.
Sometimes, we're too tired from our travel to venture out and would rather have something delivered. Other times, we want to venture out, but not so far as too get lost or risk another hour on an empty stomach. An internet search alone never seems to narrow things down enough.
So, we offer our visitors this guide to delivery, take-out and dining options around Hendricks County's three main hotel clusters in Avon, Brownsburg and Plainfield.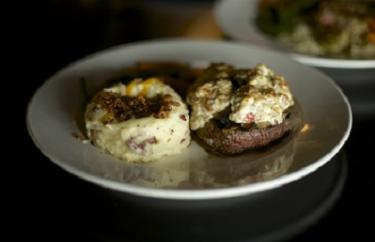 A few details about the list. Thanks to food delivery services, you can get some really good eats delivered to your door - or hotel room. We've included a few fan favorites for each area, but due to changing availability we've also included a search link that will take you straight to what is currently being delivered in each of the areas.
Hopefully, this list will help you make the most of your time spent in our county and allow you to experience some of the great food it has to offer.
Avon Delivery
If you're dog tired from your drive or travel, there's no need to fret, you can order delicious fare from Portillo's or Magoos California Pizza Kitchen for delivery or carry-out.
Portillo's
Straight out of Chicago, Portillo's specializes in Italian beef, hot dogs, tamales and burgers, but don't forget dessert. How does a chocolate cake shake sound or perhaps strawberry shortcake? Both are amazing and popular.  
Call (317) 766-9955 and pick-up at 10444 E. U.S. Highway 36, Avon, IN 46123 or check to see if delivery to your lodging is available here.
Magoo's California Pizza
Not your average pizza joint. They have your classics - traditional pizza toppings, subs, burgers and salads. But Magoo's also serves up Chappli Kebabs and Lamb sandwiches. Don't forget an appetizer. How about jalapeno garlic bread and wedges? Yes, please.
Click here for DoorDash delivery or call (317) 271-4411 to pick-up at 10584 E. U.S Hwy 36, Avon, IN 46123.
Click here and enter your location to see all of your delivery options in Avon.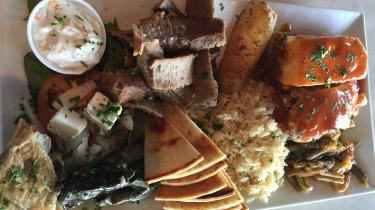 Dining In
Opa!
Opa! stands out because of its authentic Greek cuisine with a great dining atmosphere. If you're up for a short car ride to 7900 E. U.S. Highway 36 in Avon, this is a trip you won't regret. Delicious lamb dishes, gyros and plenty of appetizers and salads. Their flaming cheese and fresh tzatziki and pita bread are simply amazing. Click here to view their menu and hours.
Charbonos
An exceptional menu, wine list, cocktails and a perfect atmosphere is what you'll find at Charbonos, 128 N. Ind. 267, Avon. A local favorite for family gatherings, dinner and drinks with friends or a nice date night. We love this restaurant because the menu includes more sophisticated options like scallops with risotto and creamed spinach or more traditional selections like an Italian hero and pizza. They specialize in delicious steak, seafood, pasta dishes and salads.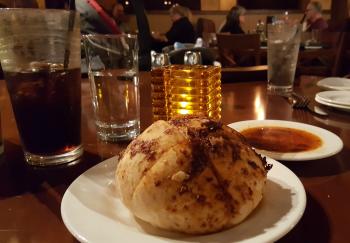 Find all the listings and tips for hotels, restaurants, and things to do in Avon by clicking here.
Brownsburg Delivery
Have it delivered or pick up some really delicious eats at Tequlia Sunrise or Panooney's Pizza.
Tequila Sunrise
Locals love this popular Mexican restaurant that offers a variety beyond what their name might suggest. Traditional Mexican dishes like arroz con pollo, tacos, nachos and chimichangas dominate the menu. But you can also find burgers, salads and wings. 
Check out the menu and have your order delivered by Grubhub here or call (317) 858-5342 to order and pick it up at 1551 N. Green St., Brownsburg, IN 46112.
Panooney's Pizza
Known for their great prices and big flavors. If you need to feed a crowd, their famous 30-inch Big Noony pizza is the way to go. This place offers lots of size, sauce and topping options and various salads - with an option to order family-sized portions. Their menu also includes delicious sandwiches, breadsticks, wings and calzones.
Call (317) 286-3500 or click here to place an order for delivery or to pick it up at 1447 E. Main St., Brownsburg, IN 46112.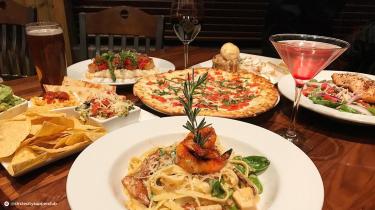 Dining In
Boulder Creek
Boulder Creek is a local favorite due to the excellent service, cuisine and atmosphere. The little added attention to each dish and fresh ingredients make every menu option a good choice. A glass of red wine and an order of spicy calamari with greens and balsamic truly is perfection. A juicy steak, crisp salad or their ever-changing dinner special also always hit the mark.
Boulder Creek is located at 1551 N. Green St., Brownsburg, IN 46112. Visit their website here to peruse the menu, make reservations and check their hours.
Dawson's Too - Sticks and Stones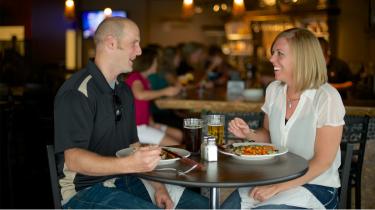 Another local favorite that boasts a menu with offerings that range from dinner platters to burgers and appetizers. Once again, there isn't a bad choice. Dawson's Too is known for its burgers, nachos, breaded tenderloins, massive salads, black and bleu steak and prime rib. In addition, they also offer delicious selections of sandwiches, pasta dishes, seafood entrees and pizza.
It's just a short drive over to 773 E. Main St., Brownsburg, IN 46112. Visit their website here for hours and look at their menu.
Find all the listings and tips for hotels, restaurants, and things to do in Brownsburg by clicking here.
Plainfield Delivery
You can't go wrong with a meal delivered or carryout from Chicago Pizza with a Twist or Thai Orchid.
Chicago Pizza with a Twist
This newly opened restaurant offers quite the variety of pizza combinations, several crust options and a long list of sauces and toppings. The veggie combinations are not your basics. You'll also find a variety of appetizers and pasta dishes with lots of great flavor combinations.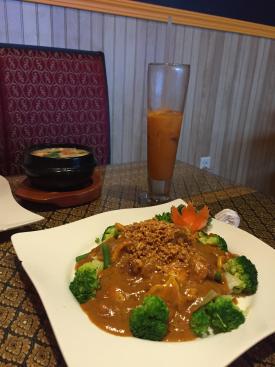 Check out their menu and place a DoorDash delivery order here, or call (317) 406-0600 to place an order and pick it up at 2376 E. Main St., Plainfield, IN 46168.
Thai Orchid
Authentic, fast, friendly and reasonably priced is how regulars describe Thai Orchid. Duck, pad thai and chicken satay stand out as local favorite entrees. The option to order individual items or combination meals is a bonus.
Call (317) 838-9688 to order and pick up at 2683 E. Main St., Plainfield, IN 46168. View their menu, place an order and have it delivered from DoorDash here.
Dining In
The Coachmen
There's a lot of history and charm at The Coachman Restaurant & Lounge. Their location overlooks a large pond and live music and seating is offered on their outdoor deck during the summer.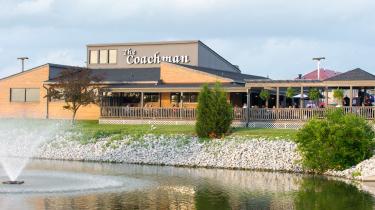 If you're hungry, the menu offers an impressive list of entrees - steaks, pork chops, smothered chicken, salmon and shrimp. If you're looking for a quicker, smaller bite, you'll can select from appetizers, salads, burgers and sandwiches.   
Take a look at their menu -- including specials -- and hours here. Head over to 6112 Cambridge Way, Plainfield, IN 46168 for a great meal. 
Stone Creek
With an impressive menu, Stone Creek in Plainfield is located in the center of our county's largest outdoor shopping mall, The Shops at Perry Crossing. You'll also find that the patio seating during the warmer months is really nice, or cozy up near the fireplace inside during the winter months.
Unique flavors, precise preparation and fresh ingredients make this restaurant stand out. Try the blackened Mahi-Mahi or Chicken Scallopini. You could easily make a meal out of their amazing sides alone. 
Make a reservation, peruse the menu and check their hours by clicking here. Stone Creek is located at 2498 Perry Crossing Way Suite 105, Plainfield, IN 46168.
Find all the listings and tips for hotels, restaurants, and things to do in Plainfield by clicking here.