When the temperature drops, nothing satisfies me more than a warm bowl of soup. But what are the best soups in the county? Well, we asked, and the fans answered. The list below features our Facebook fans' favorite soups from a bevy of local restaurants. I sampled a handful myself, but I still have many more to try.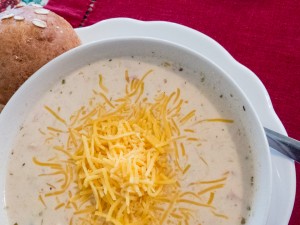 Put these in your rotation, and you'll stay warm until spring!
Danville
Coatesville
Cinnamon Girls Cafe and Bakery: If you're craving a bowl of comfort, head to Coatesville and have some of the Texas-Style Chili at Cinnamon Girls Cafe. Known for its handmade, fresh cinnamon rolls, the Cafe also offers a nice selection of lunch offerings.Owner Jill Nichols said the Reubens are especially popular. At this time of year, she offers her meaty, spicy, Texas-Style Chili about once a week. A tip: Pick up a treat for dessert on your way out. Jill was making fresh truffles when I arrived, and they were divine!
Brownsburg
Dawson's Too: Start your meal at Dawson's Too with the recommended French Onion or Tomato Basil soups.
Elegance: Cabbage often plays a supporting role in a good vegetable soup, but it stands on its own in the Cabbage Soup at Elegance Restaurant.
Savor Thyme Cafe: One of the county's newer restaurants, Savor Thyme Cafe's Beef Vegetable soup has already gathered a following.
Plainfield
The Coachman Restaurant: Our fans love their French Onion Soup! The Coachman's version earned our second nominee of French Onion as a fan favorite.
Stone Creek Dining Company: Take a break from your shopping at Metropolis and have a bowl of the Potato Leek Soup. It's sure to warm you up.
Avon
Charbonos: Especially enjoyed at lunch time, Charbonos' Chicken Velvet Soup earns high marks for its creamy, rich flavor. If you haven't tried this soup yet, it is a must and is available every day.
La Hacienda: Want something different with your Mexican meal? Try the Chicken Tortilla Soup at La Hacienda in Avon.
Honorable mention:
These three may be found at national chain restaurants, but the fans don't mind.
O'Charleys: Overloaded Potato
Panera: French Onion (again!)
Bob Evans: Cheddar Baked Potato
Many of these soups aren't offered on a regular schedule, so watch the restaurants' Facebook pages for special announcements, call ahead, or just drop by and try what they have that day! You can't go wrong.
Do you have a favorite that didn't make this list? Let us know in the comments below.