Coffee lovers, rejoice! There's a new place in Hendricks County to get your caffeine fix.
Biggby Coffee, which specializes in brewed coffees, specialty lattes and more, opened recently at 302 Dan Jones Road in Plainfield. 
I stopped in this past week and had a great experience. The decor was bright and fun, the baristas were friendly and helpful, and my pumpkin spice/marshmallow flavored latte? Yum.
"I call that the fluffy pumpkin," the Plainfield franchise owner, James Goetz, told me.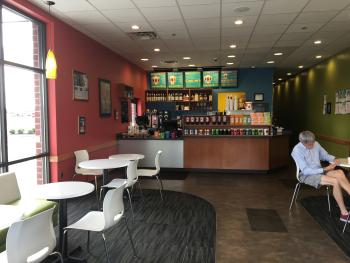 After talking with Goetz, it's obvious that he is making his best effort to turn Biggby Coffee into a community favorite. 
Of course, Biggby remains focused on providing great coffee to customers. Goetz keeps a close eye on ordering inventory to ensure the beans are always fresh, and none of the espresso drinks are flavored with mixtures or powders.
"We pull all the shots," Goetz said.
Biggby offers specialty lattes with names like the Avalanche Latte, Cinnabuzz Latte, Hazy Day Latte and more. Biggby Coffee also provides fun options for kids, like their strawberry, vanilla, or chocolate Magic Milk. For a full menu, check out the Biggby Coffee website. 
In addition to providing a quality product, Biggby Coffee wants to be involved in the community. The shop recently hosted the Plainfield Guilford-Township Library for story time. They also have catered several community events, given away cups to various organizations and planned a Coffee with a Cop event on Oct. 6 (all in-shop drinks will be just $1.99 during this event). 
Biggby also gives a 10 percent discount to teachers, police officers, fire fighters, EMTs and healthcare workers, and a free coffee to on-duty police and fire personnel. They also boast a meeting room in the back of the store for group use.
Above all, Goetz said he wants all of his customers to feel appreciated and valued at Biggby Coffee, whether they are simply buying a 10-ounce brewed coffee or a 32-ounce specialty latte. Biggby is open 5:30 a.m. to 10 p.m. Monday-Saturday and 7 a.m. to 10 p.m. on Sundays.
So next time you're in need of a little caffeine boost, check out Biggby Coffee. You will love it!