I don't know about you, but I love eating at restaurants with good food and a warm and cozy atmosphere.  When it's cold outside, I want comfort foods. You know, sandwiches and fries!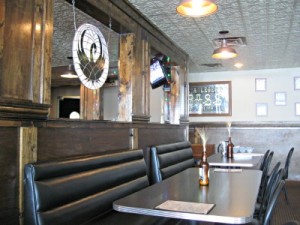 I've found the place for you. It's
Black Swan Brewpub
and it's a local restaurant in
Plainfield, Indiana,
in
Hendricks County
. Its proximity to the airport and I-70 at Exit 66 (Plainfield) makes it a perfect place for both locals and visitors. Because they brew their own beers there, it is also a stop along the
Rural Routes to Main Street Cultural Trail
, a self-guided, self-directed driving tour that showcases Indiana artisans in Hendricks and Morgan counties. On a recent cold and snowy Saturday, I went to Plainfield to do a bit of shopping with some of my family. We were hungry, and I remembered a friend of mine recommended Black Swan Brewpub. A pint of beer and comfort food, I'm there! Black Swan Brewpub opened in 2010 and is a locally owned restaurant which serves craft beers and offers a menu of appetizers, sandwiches, entrees and desserts.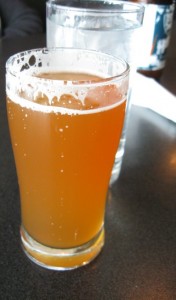 The inside of the restaurant has a cozy pub feel (with the semi-enclosed bar area), but with a family-friendly atmosphere. We sat near the cozy bar and looked over our menus. Our helpful and pleasant server explained the menu to us and offered a few suggestions. We all decided to order a drink before our meal. I'm not a beer expert, but I do enjoy trying craft beers, so I decided to try a half pint of the Vanilla Blonde. In addition to beers, Black Swan offers wines (including some Chateau Thomas wines) and cocktails. Here's what we sampled and enjoyed at lunch: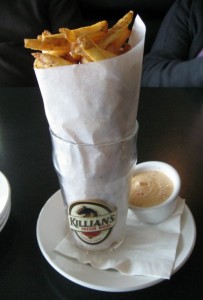 Black Swan Fries ($4.25), with a side of Peppadew aioli (roasted red pepper mayonnaise sauce). These French fries and their tasty dipping sauce were a hit with all of us. Soup of the day ($3.25 for a cup), Tomato Basil. I love homemade soups and this chunky and creamy Tomato Basil hit the spot. Signature Reuben ($9.25), with a side salad with homemade red wine Parmesan vinaigrette dressing. The sandwich was warm and gooey (plenty of corned beef, cheese and sauerkraut) and the side salad with homemade dressing was the perfect balance to the richness of the Reuben sandwich. Let me tell you it was hard to decide what to order. On my next visit, I plan to try the Chicken Schnitzel or the Meatloaf and mashed potatoes. I was too full for dessert on this visit, but next time I'll make room for and won't pass up a chance to try the Apple Strudel or the Chocolate Stout Cake. I'm looking forward to my next visit to Black Swan Brewpub. I'm a fan of locally owned restaurants and this brewery and family-friendly restaurant is a must-stop when you're in
Hendricks County
.
Black Swan Brewpub
, 2067 E. Hadley Road, Plainfield, phone
(317) 838-7444
. Hours: 11 a.m. to 10 p.m., Sundays through Thursdays, 11 a.m. to midnight, Fridays and Saturdays.
Tips:
It is a kid/family-friendly restaurant and even offers a kids menu. There were a handful of families there with kids enjoying French fries.
Try one of Black Swan Brewpub's craft beers -- available in half pint and pint glasses and all at reasonable prices. I enjoyed the Vanilla Blonde, and I'm looking forward to trying some of their other craft beer selections.
Need a new date night place? Black Swan Brewpub's cozy bar is a perfect place to enjoy a meal and a drink and watch a game with your better half.
Have you been to Black Swan Brewpub before? What's your favorite dish there? Do tell!