Those who seek all-natural, healthy and delicious drinks will want to check out Blended Juice and Smoothie Bar, a new addition to the historic Hendricks County Courthouse Square in Danville.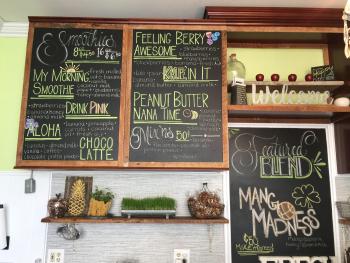 Blended -- located at 57 S. Washington St., right next door to the Royal Theater -- opened in late November 2017 and has been serving freshly-squeezed juice and smoothies that delight the taste buds and make a body happy ever since.
Owner Caitlin Russo has made healthy smoothies in her home for quite some time and finally decided to open a shop where her sister previously operated a cupcake store. Caitlin's mother operates the Royal Theater, so the entire family is working together to make Blended a success.
So what can guests of Blended find there? 
Blended offers a variety of smoothie options made with fresh fruit, fresh juice, honey, almond milk, almond butter, spinach, kale and many other natural ingredients.
Try an Aloha, made with banana, pineapple, carrots, coconut oil and fresh orange juice for a tropical experience. Get your day started with My Morning Smoothie, made with fresh milled oats, banana, vanilla, coconut milk, yogurt, blueberries, honey and almond milk.
When I visited, I opted for the Feeling Berry Awesome, which was a magnificent blend of strawberries, blueberries, raspberries, blackberries, banana and fresh apple juice. It was a big pinkish-purplish cup of awesome!
Blended also offers Choco Latte, Kale'in It and Peanut Butter Nana Time smoothies right now, in addition to their March featured blend: Mango Madness.
How about some juice? Blended offers four custom juice blends, plus the option of fresh apple or orange juice.
Visitors can also get a cup of coffee, hot cocoa or hot tea, as well as a granola snack blend.
I found the shop to be a breath of fresh air -- bright, clean, and quite inviting. It fits in perfectly with the relaxed, friendly atmosphere of downtown Danville, and it's definitely worth a trip to Hendricks County to explore!
Blended Juice & Smoothie Bar
(317) 283-9831
Open 8 a.m. to 4 p.m., Mondays - Fridays; 10 a.m. to 2 p.m. Saturdays
Major credit cards accepted