Editor's note: Jessica Nunemaker, a blogger who started the website LittleIndiana.com, recently visited Hendricks County with her husband and two boys Nov. 25-26. Nunemaker, who makes a living touring and writing about small places in Indiana, was drawn to Hendricks County to experience Christmas on the Square in Danville.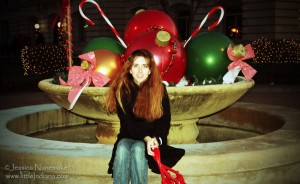 During their weekend stay, her family also visited Wilbur's Lincolnwood Toy Store, Mayberry Cafe, Total Recall Antiques and many other local attractions as well as lodging at the county's only locally owned bed and breakfast, The Old MG in Brownsburg. Additional stories about her visit will be published periodically on her blog.
As a guest blogger for All Access Hendricks County, Nunemaker wrote this about her family's visit to Central Indiana:
Need a good, strong dose of the holiday spirit? You can find yours in 
Hendricks County
or, more specifically,
HollyDays
! The holiday season just doesn't get any brighter than this! Little Indiana and family were lucky enough to kick off the season in 
Danville, Indiana
.
Christmas on the Square
This is small-town celebrating at its finest. Danville: No one decks their halls quite like you! As part of the Danville's Christmas on the Square celebration, which is held each year the day after Thanksgiving, you can literally count down to the start of the holiday season with Santa! If you're lucky (and between the ages of 3  and 12), you might get chosen to help Santa flip the switch that lights up the Hendricks County Courthouse.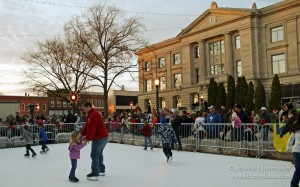 This year they had free ice skating with rental skates for just $1, reindeer games in the courthouse, and music. I'm guessing that next year will be just as thrilling!
Merry and Bright
If you have a case of the "bah humbugs," you have got to check out this quaint small town. Each and every store front is merry and bright — and so charmingly decorated for the season. From coffee or chocolate shops to clothing, accessories, and gifts of all kinds, Danville could be your one-stop shop for the Christmas season. Get your Christmas groove on and start a new family tradition next year by experiencing the magic of the season at Christmas on the Square, an incredible event in Danville!