Mayberry in the Midwest is coming in May, and as thoughts turn to Mayberry, they also turn to pie (or, at least, mine do).
We can safely assume from the constant praise she received, that Mayberry's own Aunt Bee was quite the cook in general, but her most coveted dish?
Her pies.
Opie's favorite was her Butterscotch Pecan, but many other tasty varieties showed up on the table over the years "The Andy Griffith Show" graced the television.
While Mayberry and Aunt Bee herself may be fictional, the spirits of Mayberry and Aunt Bee -- especially her delicious pies -- live on in Danville at
The Bread Basket Cafe & Bakery
, owned by Judy Sexton and her daughters. When Visit Hendricks County posed the question, "Where is the best pie in Hendricks County?" on its Facebook page recently the Bread Basket was the resounding answer, so I had to investigate. The Bread Basket Cafe & Bakery sits just off of the square in Danville, in a quaint, refurbished bungalow. The first sight that greets you upon entrance is a case full of pies, and a look around reveals that most patrons have a slice on their plate, as well. My accomplices -- husband Chris and our toddler -- and I dug into several. While we didn't try every single pie on the menu (the restaurant is closed on Sunday and Monday, so pies begin to dwindle a bit by the weekend to make room for new), we still got a fork in a half dozen, and I'm not exaggerating when I say they were all delectable. I tried, but couldn't pinpoint a favorite because they were all so good.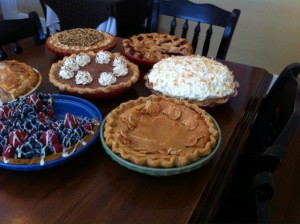 The Buttermilk is similar to a sugar cream with a softer texture and a slightly different egg taste. The French Silk tasted literally like fudge on a crust, the apple pie was a darker-than-usual flavor (heavy on the nutmeg -- in a good way) that reminded me of my mother-in-law's apple pie, and the pecan and peanut butter were exactly what you would expect when those recipes are perfectly executed.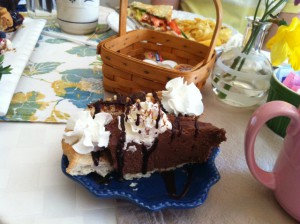 The standout for my husband was the Raspberry Cherry. He admitted that he is typically not a fan of cherry pie, but the raspberry provided a slightly different flavor that he found much less tangy and far more palatable, so much more palatable that we killed the slice. Judy added that this was one of the bigger twists that Bread Basket Cafe does on a traditional pie, using three different types of cherries, along with the raspberries, but the response has been overwhelmingly positive.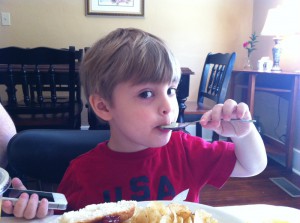 Finally, I would be remiss if I did not mention that there is a full breakfast and lunch menu in addition to the pies, as well as coffee that Bread Basket buys from a local source. My husband and I enjoyed the chicken salad croissant and even took some home. Our toddler was partial to his huge, ooey-gooey PB&J, even over the pie! Though, he did pretty much destroy the Dutch Apple slice in front of him before the meal was over. Whether heading to Danville for a taste of Mayberry, or just looking for a dessert option, The Bread Basket Cafe & Bakery should be your first stop on the way into downtown. They also will provide the pies for Aunt Bee's Pie-Eating Contest during the Mayberry in the Midwest festival. And Aunt Bee, I mean Judy, told me they will feature their apple pie event weekend, as nothing could be more All-American, or in this case Mayberry, than that.