I love finding new breakfast places, and I discovered a great one recently in Hendricks County. Emmy's Pancake House & Grill, located in Avon, definitely should be on your breakfast menu if you are a fan of pancakes and waffles.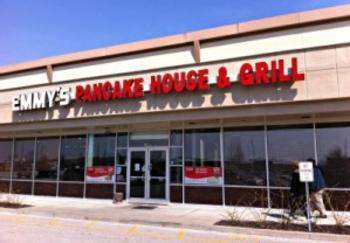 My parents and I met at Emmy's on a recent Saturday morning. We decided we needed plenty of carbs before shopping.
Emmy's is conveniently located off U.S. 36, so it's easy to find (especially if you get lost easily, like me). Before visiting Emmy's, I took a look at their online menu. I was thrilled to see so many breakfast options though they do serve lunch as well.
My parents and I walked in Emmy's, which was already packed. I wondered if we'd have to wait a long time, but after giving our name to the hostess, we were seated within 5-10 minutes. Once seated in a booth, our server greeted us warmly.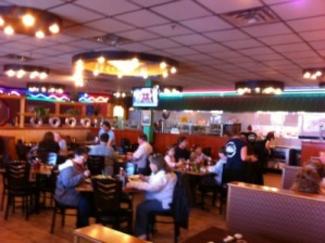 Emmy's is located in a former Chinese buffet restaurant and some of the previous décor still remains, like neon lighting, which I like. It reminds me of a fun and kitschy breakfast diner.
We took a few minutes to pour over the large menu. There are so many things to choose from, including classics like eggs benedict  strawberry crepes, Belgian waffles, skillet dishes and omelettes.
My dad decided to order blueberry pancakes, while my mom and I decided to stick with a more traditional breakfast and split the egg, bacon, hash browns and toast.
And the taste?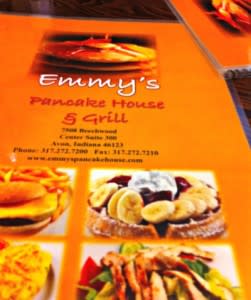 The portions were huge, and my dad enjoyed the blueberry pancakes with plenty of blueberries in and on top. He said he was too full to eat all of them.
My mom and I liked the crispy bacon and hash browns, and the eggs we ordered "over easy" were perfectly cooked. I like hot sauce with my eggs and hashbrowns, and I was happy when our server offered us a few kinds of hot sauce.
I'm looking forward to going back to Emmy's to taste more of their breakfast specialties, like strawberry crepes and Belgian waffles. If you're looking for a new breakfast place, with made-to-order food and a menu with something for everyone, Emmy's Pancake House & Grill is your place!
But don' forget, they also serve lunch with items such as patty melts, salads, quesadillas and more.
Find it:
Emmy's Pancake House & Grill
7508 Beechwood Center, Suite 300, Avon
(317) 272-7200
. Hours: Open 6 a.m. until 4 p.m., seven days a week  
What we had for breakfast:
1 egg, any style with bacon, hash browns and toast ($6.69)
Blueberry pancakes with whipped cream, syrup and butter ($6.99)
Tips:
Emmy's gets crowded so you may have to wait in line a few minutes. (The line moves pretty fast).
Emmy's is family-friendly and has a kids menu with offerings such as Mickey Mouse pancakes.
Portions are large, so you might want to consider sharing.
If you've been to Emmy's Pancake House & Grill, I'd love to hear about your favorite dish. Share your thoughts in the comments section below.