Fans of Brew Link Brewery in Plainfield, Indiana, were saddened to see the business close down in March when their building was marked for demolition as part of the revitalization of the downtown area. But the popular Hendricks County brewery is back now at a new location that is much larger, much easier to access and has a much better view.
Earlier this summer, Brew Link Brewpub opened its new doors at 4710 E. U.S. Highway 40 on the far west side of Plainfield, right next to the Oak Tree Golf Course. Housed inside an 1890s farmhouse, which was expanded in 1975 to create the Elks Lodge, Brew Link has been able to combine its brewery and tap room into one location, and it now serves food.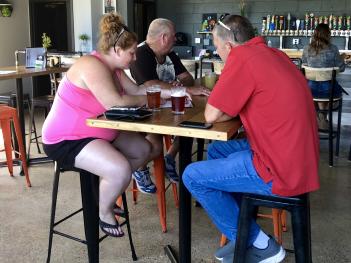 A co-worker and I were working nearby at the site of the future W.S. Gibbs Memorial Park, not far away, when we decided it was time to stop for lunch, so we hopped in the truck and headed over to the new location.
Indoor & Outdoor Seating
Pulling into the parking lot, we could see a large deck with several picnic tables on it for outdoor dining, drinking and enjoying what was beautiful weather that day. We needed a break from the sun, so we sat indoors, but a great big rolling door had been opened to allow a cool breeze throughout the establishment.
In one section of the restaurant, there is a large open area with several picnic tables that looked perfect for family dining. A couple of young children were there with their parents while we visited.
The other section of the brewpub features bar stools and high top tables, a full bar and access to the outdoor seating. On the fringes of Plainfield, right next to a golf course, Brew Link Brewpub has some really nice views while sitting at those high top tables. It was quite peaceful.
Food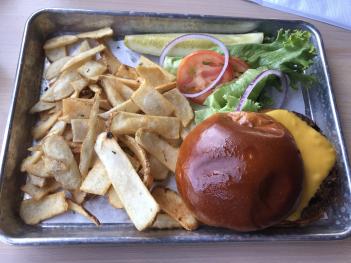 When we looked at the menu, we were pleasantly surprised to see all they had to offer. It isn't your typical greasy bar food. Brew Link offers burgers and a tenderloin sandwich, but it also offers chicken wraps, flatbread sandwiches, pasta, salads, a hummus and veggies platter, avocado fries (yes, apparently that's a real thing!) and more. (To view the menu, click here.)
We had to return to work after lunch, so we couldn't savor any of Brew Link's delicious beers while we were there, but we ordered from their list of Coca-Cola soft drinks and asked for a couple of Brewhouse Classic Burgers.
Our burgers arrived after a few minutes, and they were excellent. Cooked to order and to the temperature of our liking, the half-pound hamburger patty was perfect all the way through, it was topped with melted cheese, and the brioche bun was lightly toasted and buttered.
The rest of the condiments were placed on the side so that I could build my burger into whatever I wanted. The fries were flat and wide, making them nice and crunchy. It was a delicious and filling lunch. Both of us enjoyed our meal thoroughly.
Atmosphere
Several large mounted televisions throughout the brewpub were showing a wide array of sporting events, which my sports-centric brain enjoyed. A huge glass wall gives patrons a peek into the brewery. Lots of metal and wood throughout the building, along with light fixtures that are fashioned from old water spigots, gives it something of an industrial atmosphere while still being very clean and inviting.
I asked my coworker what kind of vibe he was getting from it, and he replied, "Minimalistic." He was awfully proud of himself for his minimalist one-word answer, but I saw his point. It's not spartan by any stretch of the imagination, but the walls aren't caked in sports memorabilia, old farm implements, license plates, photos of famous people or anything else that you often find in restaurants. The decor is simple, crisp and clean. 
Craft Beer
When they moved, Brew Link also brought in a new brewer. Mike Hess comes to Plainfield from Triton Brewing and Barley Island Brewing and brings his extensive experience and familiarity with the world of beer to Brew Link. 
Fear not, Brew Link fans. The favorites aren't going away. You can still get a glass of You Cereal?, Double-O, Nuttercup, Ivory Stout, Pretty Pretty Awkward Milkshake, Ugly Little Spud or any of your other Brew Link mainstays. Tapping into Mike's creativity, the brewery plans to introduce some new flavors later this year, so be on the lookout!
Get on out to the new Brew Link Brewpub and check out their new digs, their new food, their classic brews and their new varieties of beer.
Brew Link Brewpub
(317) 203-7788
Open 11 a.m. to 10 p.m. on Tuesdays through Thursdays; 11 a.m. to 11 p.m. on Fridays and Saturdays; noon to 5 p.m. on Sundays; closed on Mondays
Major credit cards accepted