A different kind of event -- one for brides and their friends and/or bridesmaids -- will make its debut next year in Hendricks County.
Bridal Wars just announced it has chosen Martha's Orchard in Clayton, Indiana, to host its Indianapolis-area location for this fun and unique event that takes place at different sites across the U.S.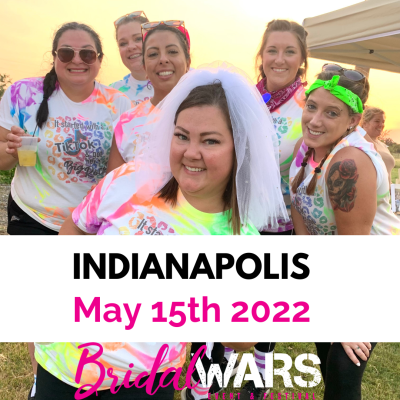 What is Bridal Wars?
Self-proclaimed as "The coolest bridal competition ever," Bridal Wars is part competition, part bachelorette party all in one big event.
Brides can sign up to bring an unlimited number of people to compete on their team in several different competitions. 
Teams usually dress in matching outfits and have a great time attempting to be crowned the winner. 
The event at Martha's Orchard is scheduled for Sunday, May 15, 2022.
Bridal Wars will host 15 events across the country in 2022.
Other event locations include Houston, Tampa, Philadelphia, Oklahoma City and Colorado.
Challenges
All challenges are optional, so if a team doesn't want to participate in a particular challenge, they can just skip it.
The Bridal Wars website lists the following as the challenges for 2022:
Lip Sync: Teams will select a song with the DJ and perform a lip sync together.
Balloon Pop: Relay race to pop balloons against your team members backsides (it's as funny as it looks).
Taste the Cake: Eating cupcakes as fast as you can.
Wedding Night Lingerie: Create lingerie on the bride-to-be using toilet paper.
Wrap While Rapping:  Wrap a gift while rapping a song.
Ugly Dress Fashion Show: Bring your ugly dresses with you to compete in our fashion show.
Other competitions: Mug Shot Photo, Bouquet Toss, Ring Toss, Bridal Party Cheer,  #1 BRIDE Relay Race,  Wedding Budget, Pong, Flip Cup, Bachelorette Pictionary, Wedding Hashtag team photo and more.
Each competition winner gets a prize, and the event will end with a winners' ceremony where they announce winning teams, hand out prizes and award the winning brides their winner's sash!
In addition to the competition, there will be a vendor and festival area as well as a cash bar and food stations for purchase.
Registration & Information
The price per team member is $15 through January 1, 2022. So, brides get your team together before the end of the year before the price goes up!