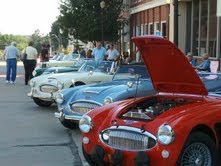 As a child, I spent a lot of time with my British great-grandmother (who lived in upstate New York), so I have an appreciation for British products, like tea and scones, The Beatles (one of my favorite bands), James Bond movies (I've seen almost every one of them) and British cars. I don't own a British car and don't know nearly enough about them, but I do appreciate a fine automobile. My mom used to own a Little British Car, a Triumph, when she was in her early 20's, and my aunt and uncle owned a convertible MG. I'd love to be able to own a Little British Car someday, but for now getting to stand next to one and ask questions and take photos will be good enough for me. The British Invasion Cruise-in from 5 p.m.-9 p.m. on Saturday, Aug. 31 will allow you to do just that. I plan to go with a few family members and take some photos of the cars and ask plenty of questions.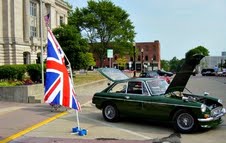 Tim Macsay, longtime owner of the MGBGT (the green car pictured) coordinates the British Cruise-in event. I recently spoke with him about owning it. For Tim, one of the best things is meeting people who used to own a Little British Car (and all of the memories that brings back) or knew someone who owned one. He also enjoys answering questions about his car and British cars in general.
Q: Do you drive your your British car often? And, if so, is there a favorite drive or place you go to in Hendricks County? 
A: I try to drive my car as much as possible when weather permits. I go on "Road Trips" which means I just head out with no particular place in mind. I cruise around Hendricks County and the surrounding areas, wherever the roads take me. Make plans to stop by 
Downtown Danville
 for the British Invasion Cruise-in. Don't forget to say hello to Tim and the other car owners. They enjoy answering questions.
British Invasion Cruise-in
When: Saturday, Aug. 31
Where: Downtown Danville's Courthouse Square
Time: 5 p.m.-9 p.m.
Cost: Free!
Family-friendly: Yes
Parking: Available around the Courthouse Square or on U.S. 36
If you own a British vintage car, a European vintage car, classic or exotic car -- by all means drive it over and show it off on Downtown Danville's Courthouse Square. The more, the merrier!
Insider tip: 
Bring a few friends or family to the Cruise-in and make an evening of it by enjoying dinner at one of 
Danville's restaurants
.
If you've previously been to one of the Cruise-ins, we'd love to hear your thoughts. Leave us a comment below.