At the end of September, a favorite local business reopened under new management. Brownsburg residents Chuck and Tillie Pyatte are the new owners of Big Apple Bagels, and they've opened with the goal of not only serving delicious food, but also serving the community and becoming a gathering place for residents and visitors.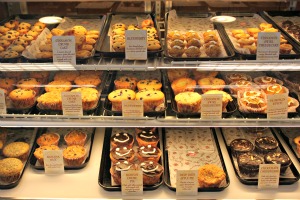 The restaurant may be called Big Apple Bagels, but there are much more than bagels on the menu. Big Apple Bagels serves breakfast and lunch sandwiches, and offers delicious smoothies and freshly baked muffins.
My son and I sampled an assortment of mini-muffins, and they were all incredibly tasty. They got a double "thumbs up" from my 6-year-old, which is a pretty high honor! I also have to give a "thumbs up" to the coffee, which was hot and fresh. 
Owner Tillie Pyatte says everything on the menu is great, but her favorite is the Big Apple Club sandwich. Other staff members told me the Turkey Havarti sandwich is also outstanding! Both breakfast and lunch are served all day, so you can enjoy these treats any time.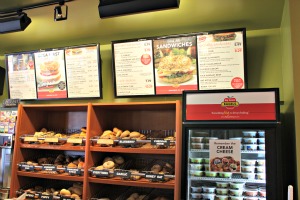 The menu will soon be expanding to add soups and toasted sandwiches, and in the spring they will be adding outdoor seating as well.
The Pyattes feel incredibly blessed to be serving the Brownsburg community, and they hope that their restaurant becomes a place where people can connect with others and feel at home. There's free wifi for those who need to get some work or studying done during the day. The restaurant is available to host meetings, and also offers catering and delivery.
Big Apple Bagels has hosted everyone from local business people to moms groups with their little ones. They hope to continue to be a connection point for the community. The Pyattes say the support they've received from local residents has been overwhelming already, and they're excited to give back through delicious food and strong relationships.
If you're looking for a great breakfast, yummy lunch, or a place to grab coffee with a friend, you can't beat Brownsburg's Big Apple Bagels. Here are all the details so you can plan your visit: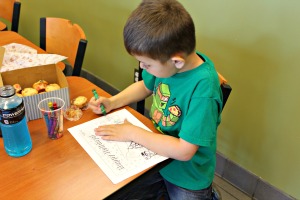 Brownsburg Big Apple Bagels
1551 N. Green St. in Brownsburg
Hours: Monday-Friday 6:30 a.m. to 4 p.m.; Saturday 7 a.m. to 3 p.m.; Sunday 7 a.m. to 2 p.m. 
Breakfast and lunch served all day; catering and delivery available
A great place for diners of all ages!
Keep up with events and new menu items on Facebook