Few counties give people the opportunity to fly to the moon or Mars. But then again,
Hendricks County
is no ordinary place. If you are looking for a distinctive, dare I say, out-of-this-world adventure, you need not look any further than the
Brownsburg Challenger Learning Center
.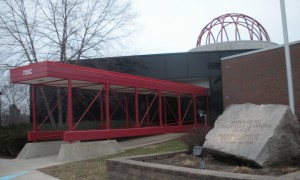 One of 52 Challenger Learning Centers worldwide, Brownsburg offers
corporate missions
for team building; student missions that include every educational discipline;
Micronaut Mini Discover Missions
for the kindergarten through second grade kiddos, tours by reservation and three missions a year that are open to the public. I got to sit in on one of the student missions this week, and the interest, engagment and education blew me away. One of the flight directors told me, "It really is the perfect classroom," and she was dead-on accurate. The group of sixth graders from Brownsburg East Middle School spent their morning at the Challenger Learning Center participating in a mission called
Return to the Moon
. The class was broken into two groups with one group serving in the Mission Control room and the other in the Spacecraft. What I witnessed was a group of kids who couldn't have been more involved. They were gaining life skills such as teamwork, problem solving, science, math, communication and much more. But the best part: They weren't even aware of the education because they were having so much fun.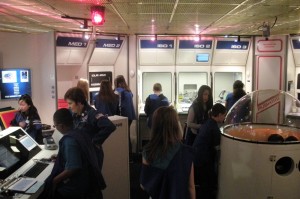 As I watched, a red light in the center of the Spacecraft began to swirl and a siren blared as an emergency warning flashed on the screen that the oxygen levels were becoming dangerously low. Without panicking, the Mission Control team began troubleshooting the problem and relayed instructions back to the Spacecraft crew. It was obvious to me that the kids loved it, and I was told that enthusiasm translates to the adult missions as well. "Even though you know it is not real, you can get caught up in it," said Jill Swango, Brownsburg East Middle School science teacher who has participated in an adult mission. "I would encourage anyone who has an interest to come here and try it." Your first opportunity to do so comes Tuesday on Valentine's Day. The Challenger Learning Center's first of three community missions this year that are open to the public will be geared toward adult couples. The Fly Your Sweetie to the Moon Valentine Mission will be from 6 to 9 p.m. Tuesday at the
Challenger Learning Center
, which is located behind the Harris Education Center just off Ind. 267 at 725C S. Green St. Spots still remained Thursday, but only a limited number were available! The cost is $65 a couple, which is actually cheaper than dinner and a movie these days. The mission includes flowers for her, plenty of chocolate, a framed picture for each couple, food and of course a romantic trip to the moon. The atmosphere is relaxed and the dress is casual. In addition to the upcoming Valentine Mission, the other two community missions this year are $20 a person and are open to fifth-graders through adults. They include: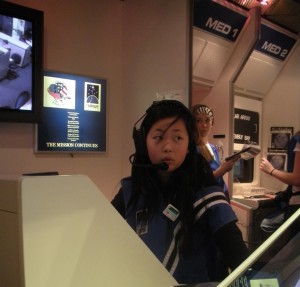 The Brownsburg Challenger Learning Center also offers one-hour tours for $45 in which participants view a brief video, check out space artifacts, sample space ice cream and tour Mission Control and Space Command. Student and adult group missions usually last about three hours and cost $600. The center also offers video conferencing for groups who can't make it to the facility. Reservations are required for all of their activities with spots available Monday-Saturday. For more information or to reserve a spot for any of their activities, visit their
website
or call (317) 852-1008. Let me tell you, the Brownsburg Challenger Learning Center is such an awesome place for both kids and adults that it is well worth the trip to Hendricks County to check it out.