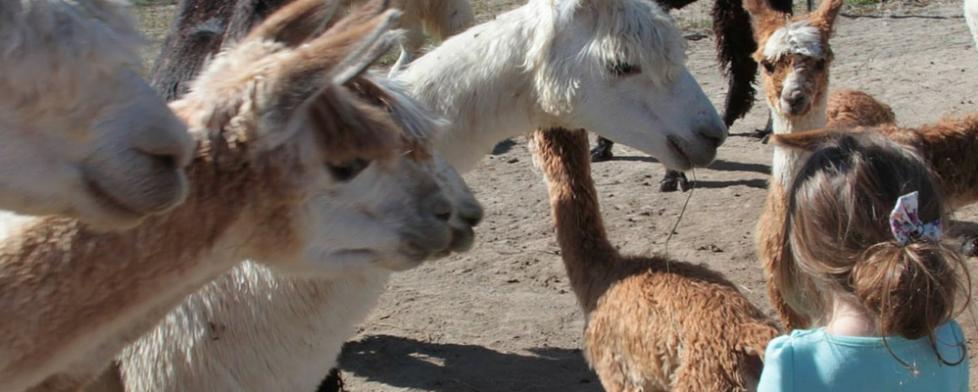 There's something about the toothy grin of an alpaca as it peeks at you from under it's wavy bangs that hang just over it's friendly eyes. His curiosity is just as obvious as your own as he sticks his face right into yours. 
Your startled but amused movement causes a domino effect among the alpaca and his herd. They'll be back. The alpaca can't help it, he must greet you.
This domesticated South American animal is famous for it's fleece, soft and luxurious hair that is used for doll making, fiber goods and other textiles.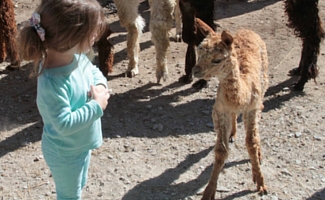 Come meet these beautiful, friendly animals in their home during National Alpaca Farm Day. Montrose Farms Alpaca Ranch in Brownsburg is hosting an open house on Saturday, September 26, 11 a.m. to 4 p.m..
Did I mention there are baby alpacas? 
Admission is $1 per person age 13 and up, children 12 and under are free with an adult.
In addition to meeting the alpacas that call Montrose Farm home, you can:

Watch spinning demonstrations by Trudy Land of Land Goods;
Check out Fiber presentations by Nomad Yarns;
Shop from a selection of alpaca fleeces and finished goods;
Take a tour of the ranch;
Enter the raffle for a pair of alpaca socks;
Bring a donation of winter coats, hats, gloves, mittens or toys for the Turtle Mountain Indian Reservation if you are able.

My daughter loved exploring the ranch duirng our recent visit. Because isn't normally open to the public this open house provides a perfect opportunity to see these unique animals up close and to learn more about all the benefits alpacas bring.
Montrose Farms Alpaca Ranch is located at:
3750 N. County Road 950 EastBrownsburg, Indiana